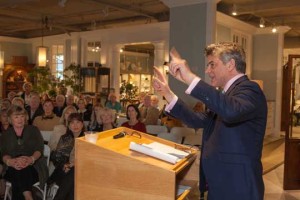 Longtime supporter Ronald Lee Fleming is offering a challenge program to create an endowment for Royal Oak's national program of lectures, The Drue Heinz Lectures.
Mr. Fleming will match all direct contributions and legacy program pledges received by June 15, 2015 on a one to two ratio up to $500,000.
Launched in 1973 and made possible with lead funding from the Drue Heinz Trust since 1992, Royal Oak's national program of lectures are fundamental to our educational mission. Mrs. Heinz's vision and commitment has created one of the country's most respected annual lecture programs focused on British history, art and architecture. Please help us ensure that this legacy endures!
To learn more about this exciting opportunity please contact Executive Director, Sean Sawyer at ssawyer@royal-oak.org or 212.564.2807. Or you may send a message through the form below and someone will contact you shortly.
[contact-form-7 id="782″ title="Contact form 1″]