Armchairs, settees, card tables, and tête-à- tête sofas – these are a few of my favorite things! Luckily, the National Trust Collections site has over 800,000 items online for passionate decorative art and furniture lovers like me to peruse for hours. This accessible online collection is relatively new and is still a work in progress. Photography and cataloging of all of the Trust's fine and decorative art, furniture and estate paraphernalia is still needed. Fortunately, that's just what this year's National Trust Appeal seeks to support!
With the support of Royal Oak friends and members, this year's Appeal for the National Trust's Furniture Collection will enhance entries for all furniture objects across the Trust's collection making them available to research within the online collection database.
I decided to use the National Trust Collections database this morning to plan my ideal trip to the United Kingdom based on Trust sites that house Thomas Chippendale furniture. Using the right-side search column, I was able to filter by category and maker to find which properties hold Chippendale furniture.
Here are some of my highlights from my Chippendale-themed itinerary: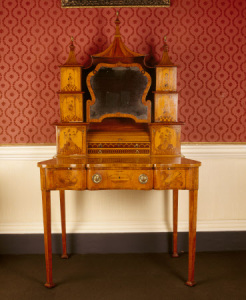 While Clandon Park houses many Chippendale dining chairs, this Early George III marquetry satinwood dressing table makes me swoon and is worth traveling to visit and admire.
Can you imagine getting ready for the day in front of this pagoda crested beauty?!
Nostell Priory, West Yorkshire
If you're a Chippendale fan, you must make the pilgrimage to West Yorkshire to view Nostell Priory's furniture collection. According to the National Trust Collection database, there are 109 digitized Chippendale entries from this 18th century home (also a must-see architectural masterpiece). I'm over the moon for the intricate details found on the pier glass, the green painted overmantel and chinoiserie clothes press. Is anyone else mumbling "they don't make them like they used to…" when they see these?
Another hidden gem at Nostell is the medal cabinet commissioned by then estate owner Sir Rowland Winn (1767) to house his coins and medals. The perfectly preserved mahogany cabinet lives behind a library door and has maintained its original warm red color over centuries. Imagine the goodies hidden in these drawers?!
Osterley Park and House, Middlesex
The secretaire with veneered black and gold Chinese lacquer, found at Osterley Park and House, sends my heart aflutter! It is believed this piece came to Osterley Park by the 1870s and maybe even earlier (a 'japanese secretaire' was recorded in the house as early as 1782). The delicately designed jewel was housed in the Etruscan Room at Osterley – which is in the running as my favorite National Trust interior.
The notes for the makers and roles of this settee at Saltram combine the brilliance of two of my favorite men from the 18th century – Robert Adam (as the designer) and Thomas Chippendale (as the creator). Does it get any better?!
You may recognize this exterior of this stately Georgian mansion as the home Norland Park in the film adaptation of Jane Austen's Sense and Sensibility.
As you can see, there are endless uses for the National Trust Collections database online. It is perfect to plan a trip if you desire surrounding yourself with rich interiors on your next visit to the U.K. More importantly, this database is crucial for conducting scholarly research in the fine and decorative art fields. With your support our 2015 appeal, more catalogue entries will become available and bringing the undocumented collection to life. Support this project today. Donate Now