Royal Oak members enjoy incredible, behind-the-scenes access at special events, including private collection visits and studio tours. Learn More
On Friday, March 27th, I participated in a Royal Oak programs tour for a studio visit to Venturella Studios.
I've always thought the process of glass restoration was incredibly interesting, but I didn't realize that there were studios so close by in NYC that did this. When we arrived at the studio, I was expecting a warehouse type setting. Instead we met in the lobby of a building that could very well have been the lobby to a doctor's office! Once we went upstairs though, the hallways grew tight and mazelike. After winding around a few turns, we arrived at the studio. Thomas Venturella, the owner, operator and Senior Conservator met us at the door and welcomed us inside.
The studio was one large room with an old wood floor, the kind that slopes and buckles and looks like its seen years of artists walking around. The age of the building became apparent from the studio. I wouldn't mistake this area for a doctor's office! Every part of the wall was concealed by old posters, pictures, or religious statues (all covered for the Easter holiday), as well as left over stained glass pieces. There were two other people working in the studio, Jim, who was restoring the metal on a Tiffany lamp, and Indre, an artist who was painting a new commission while we were there.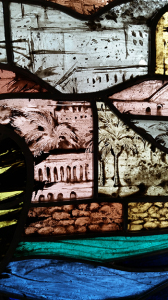 On the table immediately in front of us two Tiffany lamps were being restored. Tom explained that they are in the process of restoring 87 Tiffany lamps for the New-York Historical Society. They are shipped in batches of 10 to the studio because their space cannot accommodate all the lamps at one time. In addition for work for the New-York Historical Society, Tom's studio is the primary conservator for the Charles Hosme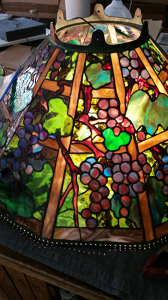 r Morse Museum of American Art in Florida, and has worked on pieces for the Metropolitan Museum of Art, The Cloisters, Christie's Inc., and the Frank Lloyd Wright Foundation.
Tom was wonderful and showed us many examples of art. On the tour, we learned about Tom's background, including how he inherited some interesting pieces on display in his studio. He explained some of the repairs done on some example pieces, such as Frank Lloyd Wright window. Tom's conservation philosophy is one of the best, "Keep as much of the original material as possible." Not only is Tom an advocate of retaining the fabric of the piece, he also makes it a priority to understand what the piece is about. While perusing his book shelf, I noticed books of various topics, from religious histories to iconography, to materials textbooks. My favorite was "A Dictionary of Symbols," because I can only fathom half of what was put in some of the medieval glass that Tom has restored.
Some fun tidbits we gleaned from our visit: the oldest piece Tom worked on was a 12th century French one. A general conservation takes about 6-8 weeks, while a more intensive one could take from 9 months to 1 year. Tom's experience through his professional career has given him the skills to identify artists on sight and spot past repairs that the untrained eye would never notice. He spends a considerable amount of time analyzing a piece to make sure if he has to replace any material, he is sympathetic to the original design. He also offers advice to those seeking to conserve a piece; he related a story about a particular piece that just didn't look right to him, and his instincts were right – it had been previously repaired in a way that affected the proportions of the image. At the end of our tour, Tom gave us an amazing treat by showing us pictures of a work that was commissioned but is too private to be allowed on his website. It was one of the most incredible things I've ever seen, and unfortunately, I can't even describe it!
For more programs information, including behind-the-scene tours and visits to studios, check out our website.
And remember, to access some of these amazing resources, join or upgrade your membership!