West Sussex is home to many National Trust sites: historic houses, gardens, coast and countryside. If you're planning a trip to England soon and are looking for an itinerary of places to go, this guide and map can help you to plan a route that satisfies all your travel interests. As a member of Royal Oak, you can visit all of these sites for free! Join Now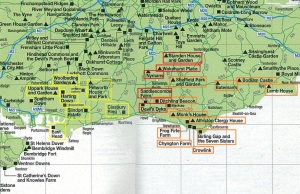 In my last post I explored a few of West Sussex's National Trust sites. This post continues the last few West Sussex sites before we head to the East in the next post! Check out the handy map below and follow along as we discuss the sites circled in red.
I'm always attracted to locations that have legends attached to them. According to legend, the Devil dug Devil's Dyke, a long, deep, v-shaped valley, to drown parishioners of the Weald. (If you want the scientific explanation: it was formed naturally during the last ice age 10,000 years ago.) Besides its history as a natural landscape, the area was used for an Iron Age fort, remnants of which still exist, as well as a Victorian funfair and the site of Britain's first cable car. If you're interested in the sights from a different perspective, you can enjoy this aerial video, which also shows a few of the other NT locations on our list. The National Trust provides a downloadable list of walks on their site for visitors. Also notably, Devil's Dyke is one of the most popular hang-gliding spots in the UK.
Saddlescombe Farm and Newtimber Hill
If you come at the right time, you might be able to see the poppy field which turns the entire landscape a vibrant red for you to reenact your favorite scenes from the Wizard of Oz. Also, check out the restored donkey wheel that was used to draw water from the well, which dates back to the 17th century. Saddlescombe has been recorded in the Domesday Book and was once a home to the Knights Templar. Walk amongst ancient lime trees at Newtimber Hill and look for beech trees with graffiti from 1880.  Just note there is no parking in the farm and check the National Trust website to find out when the farm buildings, café, and campsites are open. On open days you may be able to visit the manor house, Victorian walled garden, the boot room, the Tudor scullery, and watch craftsmen practice traditional skills.
Wakehurst Place is a National Trust site that is managed by Kew Gardens. The site boosts a botanical garden, a Tudor mansion and a research centre. The extensive estate features walled gardens, natural woodlands, formal gardens, and lakes. Here visitors can see the largest growing Christmas Tree in the UK. Also available is seasonal and local produce at The Stables and sandwiches and cakes at the Seed Café. Visitors to Wakehurst should be aware there is a charge of £10 to park, even if they are members of the National Trust or Royal Oak, though entry to the estate is free to members.
Considering the age of other National Trust sites, this Arts & Crafts house built in 1891 is basically brand new! Don't let it's relatively young age fool you into thinking it's like any other house you've seen—this mansion is considered one of the finest examples of Arts and Crafts workmanship, with its Morris & Co. interiors, as well as outstanding collection of objects and the huge amount of conservation and restoration work occurring right now. The staff and volunteers have even gone through and catalogued over 6,000 pieces of their Accredited Museum collection online for you to view! You can also check out the blog of their new conservation and interpretation assistant for a fascinating behind the scenes view of the house. Besides the house, Standen boasts a 12-acre garden, currently undergoing a major restoration. Additionally, the estate also manages 100 acres of woodland, where you can walk through several fields and commons and view a variety of wildlife. Finally, check out the various events going on at the estate; from tulip photography to digital photography courses and art workshops, there is plenty to do at Standen!
Nymans holds a special place in the heart of our Director of Member Services, Winifred Cyrus, who couldn't stop saying how wonderful it was to visit. For all of our members making a trip to the UK, this is a "Can't Miss" on Royal Oak's list. Nyman's was once a large family home for the Messel family in the 19th century. If that name is familiar to our Royal Oak members, it could be because of the 2011 Drue Heinz lecture given by Thomas Messel, furniture designer and author, as well as nephew of Oliver Messel, the acclaimed set designer. The house itself, a lovely 19th century stone manor in the Gothic/Tudor style, was destroyed by a fire in 1947. The ruins still exist as a garden feature. Coexisting with the garden is a prominent theme of this site, which is one of the National Trust's most eco-friendly properties. There are guided daily walks exploring the site's history and plant collection, as well as free buggy tours, art workshops, photography workshops, walking trails, and exhibition galleries. And for those historic house lovers, there is still a collection of 17th century furniture, Flemish tapestries and lovingly decorated rooms to explore.
Check back for our next post, exploring the National Trust sites in East Sussex! Don't miss out on these and hundreds of other incredible National Trust properties. Join Now