Royal Oak is celebrating the reopening of the iconic Mount Stewart in Northern Ireland. Enjoy unlimited access at this quintessential country house by becoming a member! Join Now
Learn about our travel offerings and visit Mount Stewart with a group! Learn More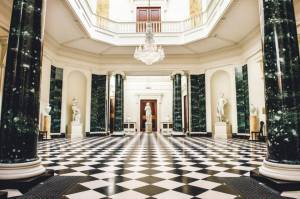 Northern Ireland is home to a great many spectacular properties, as we've covered before here on AngloFiles. Castle Ward draws Game of Thrones devotees, hoping to catch a glimpse of the real-life Winterfell. Giant's Causeway's otherworldly beauty and status as a UNESCO World Heritage site draws visitors by the troves. Castle Coole and Florence Court offer a full day of tucked-away treasures and awe-inspiring architecture.
But perhaps the crown jewel of Northern Ireland's historic properties is Mount Stewart, County Down. Boasting a signature library, a grand entrance hall and unparalleled garden, Mount Stewart has always been the quintessential country house. This is a particularly significant moment of its history, as the house emerged yesterday from a 3-year, process. The end result: a Mount Stewart that looks better than ever, the result of a truly spectacular restoration and curatorial work that we couldn't be more excited to see first-hand. Take a look for yourself in the slideshow below.
Get the flash player here: http://www.adobe.com/flashplayer
The restoration brings the house closer to its early 20th century heyday and the National Trust's decision to reinterpret the house this way invites a more historically accurate reading of the magnificent property. The Trust's curators are always looking for new ways to bring properties' important, unique histories to the forefront, as Simon Murray, the Trust's Chief Operating Officer, shared with us last year.
Before you visit, take a virtual tour of the reinterpreted Mount Stewart with the BBC.
This summer is the perfect chance to visit Northern Ireland's many properties, including the newly realized Mount Stewart. Your Royal Oak membership will get you unlimited access to these wonderful properties. Join Now
If you'd rather explore with other country house enthusiasts, consider our travel offerings with JustGo Holidays. This September, a Royal Oak/JustGo tour group will visit all the major Northern Ireland landmarks, including Mount Stewart. Don't miss out! Learn More