38 years ago, London's Spitalfields Trust prevented the controversial redevelopment of Elder Street in its storied neighborhood. Facing a similar crossroads in 2015, the Spitalfields Trust is once again working to preserve the character of London's streets.
Developers British Land seek to tear down 70 percent of the buildings on their site in Norton Folgate, replacing them with a 13-story structure that would tower over the rest of the neighborhood, whose historic buildings stand 4-5 stories tall.
Preservationists, including the Sptialfields Trust, have voiced the alarm, and are rallying to prevent the redevelopment. David Milne, a friend of Royal Oak and curator of Dennis Severs' house (located right by the proposed redevelopment), had this to say about the situation:
"On the 12th of February 2015 the Spitalfields Trust launched a campaign to stop British Land and the City of London from obliterating Norton Folgate in Spitalfields.

"In 1977 the newly formed Spitalfields Trust including Dan Cruickshank and with the support of Sir John Betjeman and Tower Hamlets Council stopped British Land from redeveloping Elder St.

"Now British Land has come back to bury Norton Folgate under a hideous corporate plaza.

"With faint regard for the distinctive character and history of the ancient Liberty of Norton Folgate, British Land proposes the destruction of over 70 percent of the buildings on their site within the Elder St Conservation Area – and their replacement with a generic over–blown corporate development of large office blocks up to 13 storeys high, and far exceeding the historic neighborhood's prevailing 3-4 stories.

"The British Land proposal does not make an adequate enough contribution to the pool of jobs and housing for local people. It is aimed at large corporations whilst offering little to the tech industries and smaller businesses so successful in this part of the East End.

"Frustrated by a consultation process that appears to have had little meaning and has produced no significant change, the Spitalfields Trust is now opposing British Land, in a fight to save the buildings and life of this historic neighborhood and Conservation Area."
The Spitalfields Trust is hosting a rally showing the community's solidarity against the redevelopment this Saturday, July 18. For more information, visit their website.
For reference, here are images of the neighborhood as it stands now (left) and a rendering of how it would look after the redevelopment (right).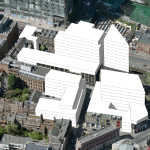 For more information, or to get involved, please visit:
https://www.facebook.com/savenortonfolgate