Christina Conte is a renowned food blogger and top-notch cook with a passion for the UK. In fact, she was even born on the other side of the Atlantic and visits her native Scotland often! Her blog, Christina's Cucina, is home to hundreds of delicious recipes that will make your mouth water, plus fun stories from her travels in England, Wales, Ireland, Scotland and beyond. We're delighted to be able to share Christina's recipes regularly here on The AngloFiles Magazine.
By Christina Conte
Sometimes it feels as though serendipity isn't really serendipitous.
Okay, that sounds silly–what I mean is that sometimes it seems as though there's more at work than just sheer luck. For example, just a couple of days ago, I went through my freezer and noticed that I had a bowl of leftover cake pieces from my niece's baptism cake, and thought to myself, "I need to use that," but I wanted to make something new. When I came inside, I started putting some things away in the kitchen and picked up a British cookbook that was on the counter, flipped the pages and "ORANGE BOODLE" just popped out at me.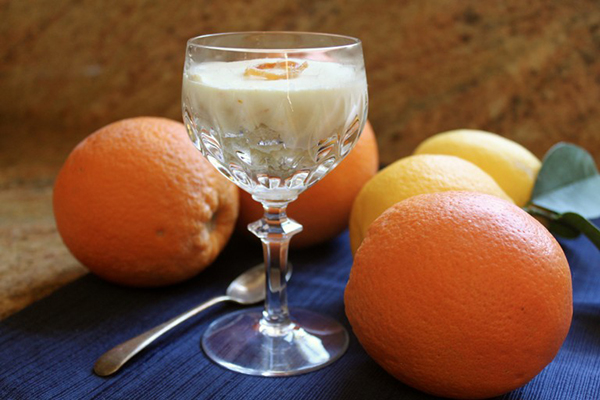 "What a strange name!" I thought, and of course, I had to see what it was. Would you believe that the first ingredient was pieces of sponge cake? Honestly, these things happen to me all the time, and it's rather freaky.
Once I read the recipe, I just knew it was "dessert fate" and I had to make it: sponge cake, the rind and juice of two oranges (they were ripe on my tree), rind and juice of one large lemon (Meyer lemons were also ripe on my tree) and double cream (whipping cream- which I had in the fridge and needed to use)!
The result? Delightfully delicious!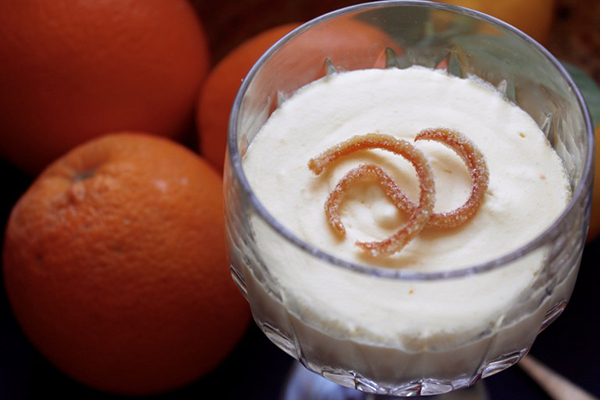 A quick google search filled in the missing information regarding the origin of this refreshing treat. Apparently, Boodles is an exclusive gentlemen's club in London which was almost simply reserved to the Royal Family. Sir Winston Churchill was given an honorary membership to the club where he would often sit and smoke his cigar in front of the bay window. It is in Boodles Club where Orange Boodle, or Boodles Orange Fool originated. (Information courtesy of WinstonChurchill.org.)
Orange Boodle (Boodles Orange Fool)
slightly adapted from Woman and Home Great British Bakery by Lucy Knox
serves 6
Ingredients
4 oz or a few pieces of leftover yellow (sponge) cake
grated rind and juice from 2 fresh, organic oranges
grated rind and juice from 1 fresh, organic lemon (preferably Meyer)
about 1/3 cup (85 g) Baker's sugar (caster)
10 oz heavy whipping cream (double cream in UK)
(optional: Grand Marnier liqueur)
candied orange, pieces of orange rind or fresh orange segments to decorate
For step-by-step cooking instructions, please read more at Christina's Cucina.
Experience authentic UK cooking for yourself with a trip to the other side of the Atlantic! All you need is your passport and your Royal Oak member card! Join Now