The history and travel advice comes from the Dorset-born scholar James McDonaugh, who is guiding the Spring 2016 Royal Oak Garden Tour with his company Art Tours, Ltd. He has some tips on how to lose yourself in the beauty of this unique region.
By James McDonaugh
I have been lucky enough to spend much of my life in Dorset. Childhood holidays were spent visiting my grandparents in their beautiful 18th-century Palladian country house. Christmas was always magical: my grandfather would choose a huge Christmas tree for the hall and we would spend days decorating it and piling our presents beneath. My brothers and I fished on the lake, ran through the woods and bicycled into the local village every day. My grandmother would leave gold chocolate coins under our pillows. When my parents moved into the house in 1997 it became my home and aged just eighteen I began to explore this extraordinary county.
Dorset is quintessentially English, with its trout-filled chalk streams, thatched cottages, Iron Age hill forts and Saxon churches. King John hunted here with the early barons of England in the ancient forests of Cranborne Chase. Large areas of the county have been owned by a handful of the same families for hundreds of years. The Cecils, Ashley-Coopers, Pitt-Rivers, Bankes, Digbys, Welds and Sturts are just a few of Dorset's old families. The Industrial Revolution bypassed Dorset and it remains one of only a handful of regions of England with no motorway running through it.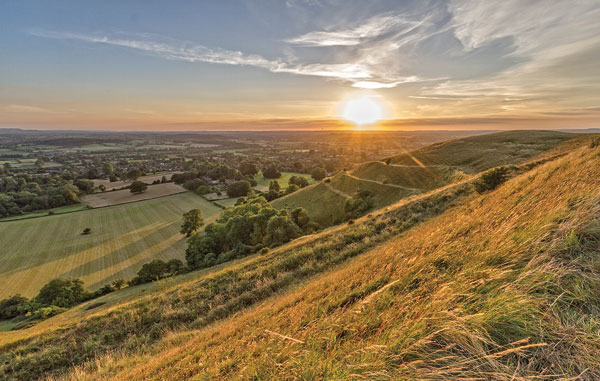 Dorset's most famous son was Thomas Hardy and you need look no further than Tess, Far from the Madding Crowd and The Mayor of Casterbridge to glimpse the people and landscapes of its past. Hardy was born near Dorchester, Dorset's capital. He came from humble roots: his father was a builder and his mother was a cook. He would become one of England's greatest writers and poets. He was deemed worthy of a burial in Westminster Abbey, but he chose to be buried in Stinsford, beside the old Dorset Church where he had worshipped since childhood. Hardy invented hundreds of names of towns and villages to populate "Wessex," the imaginary county of his novels. Some show his wry sense of humor ("Sarcophagus College" at "Christminster"), while others show his love of history ("Shaston" replaces Shaftesbury and "Wintoncester" is instead of Winchester). Hardy drew his inspiration of course from Dorset itself where there are endless strange and wonderful village names: "Sixpenny Handley," "Gussage All Saints," "Tarrant Monkton" and "Bishop's Caundle" are a few of my favorites.
Dorset boasts beautiful country houses and gardens. While they might not rank as England's grandest they are full of character and history. Cranborne Manor is one of the longest continually inhabited houses in England; King John used it for hunting in the early 13th century. It was one of the first Jacobean lodge houses – for occasional use as a pleasure retreat. The Cecil family, who have owned the house since 1604, have created a garden of rare beauty and elegance. Kingston Lacy is one of the jewels of the National Trust and is stuffed with treasures, from Tintoretto and Rubens, to one of England's earliest collections of Spanish paintings. St Giles House has been recently restored by the 12th Earl of Shaftesbury, who has done a magnificent job repairing a grand 17th-century house which had been left to ruin. I am excited to be showing these houses, among others, to Royal Oak patrons in 2016.
A traveller to Dorset will find more than just country houses to explore. The rolling downs of east Dorset are full of ancient burial mounds, stone circles and mosaic floors of Roman villas. Close to my grandparents' house is the village of Hinton St Mary where one of the earliest representations of Christ in art was discovered on a floor mosaic from around 350 AD. It is now one of the treasures of the British Museum. Travel further south and discover the cliffs of the Jurassic Coast and a landscape that gave England some of its finest building materials: Portland stone and Purbeck marble. Here there are dramatic windswept walks with views out to sea and quaint English pubs that serve homemade pies and ale. Those interested in ecclesiastical architecture can head north to Sherborne Abbey, one of England's finest churches, and marvel at the beautiful 15th-century Gothic vaulting and Saxon foundations that go back to the 8th century. This church was old when William the Conqueror invaded England in 1066. These ancient sites give an immutable quality to Dorset, which sets it apart from other English counties.
There is a real sense of travelling back in time when wandering the hidden roads and villages of Dorset. I cannot recommend more leaving the mobile phone behind and exploring Thomas Hardy country on foot, chancing upon beautiful country houses, woodlands and chalk downs. Locals are kind and generous with old-fashioned English manners and a strong sense of community. Families have often lived in the same village for generations and it is not uncommon to meet people who have only been to London once in their lives. It is no wonder with Dorset as their home.
Use your Royal Oak membership to explore Dorset and beyond! Plan your own itinerary or book a trip through Royal Oak. Just make sure your membership is up-to-date to take advantage of all the National Trust has to offer. Join Now