A behind-the-scenes look at the Tower of London with upcoming lecturer Alan Kingshott, Chief Yeoman Warder.
There are over 1,000 years of history at Her Majesty's Tower of London, from the establishment of Tower Hill in 1066 to its use as a royal residence, and today as the Royal Mint and home of the Crown Jewels.  Since 1485, under the direction of King Henry VII, the Tower has been expertly guarded by the Body of Yeoman Warders ("Beefeaters" to us laymen).
I must confess that aside from their fanciful outfits and depiction on a gin bottle, I knew very little about the Body of Yeoman Warders or the role these guards play at the Tower.  Luckily for me, Time Out London went behind-the-scenes with Royal Oak lecturer Alan Kingshott for a glimpse into the life of a Beefeater.  And it was fascinating!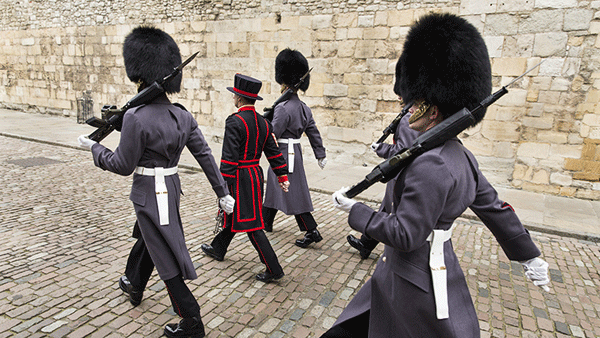 Here's what I've learned:
It is quite difficult to become a Warder. There are very specific criteria one must meet in order to qualify for application, such as having served at least 22 years in the armed services.
Alan Kingshott has been a Beefeater for 18 years and for the last four has been the Chief Yeoman Warder.
Kingshott oversees a team of 37 warders.
Every morning, the main gates of the Tower of London are officially unlocked by the Chief Yeoman Warder, flanked by four regimental guards.
Warders not only guard the Tower, but offer tours to visitors, bringing its rich history to life.
Over 100 people, including Mr. Kingshott, live inside the Tower. Alan's bedroom used to be a prison cell!
500 years ago there were 37 bars and inns inside the Tower's walls, now sadly there is only 1 bar left.
It takes about 20 minutes to put on the full uniform and it weighs A LOT.
The working offices of Historic Royal Palaces are located in the Tower of London.
Don't miss Alan Kingshott's lectures in New York and Philadelphia!
Wednesday, May 18 | New York City: Register Here
Thursday, May 19 | Philadelphia: Register Here
For the full article, visit Time Out London.