This post comes from our friend Ben Home at Flying Scot Glasgow
With its stunning scenery, unspoiled coastlines and miles upon miles of picturesque countryside, Britain is the perfect holiday hotspot. With an abundance of quirky towns and cities waiting to be explored, the UK sees tourists from around the world flock here in their quest to make memories.
If you're looking for some destination inspiration this season, we've got just the thing. Today, Flying Scot Parking Glasgow – providers of low cost airport parking – are bringing us some of their favorite British coastlines, helping you pick the best spots to pitch up this summer.
Bamburgh Beach, England
Northumberland is renowned for its rolling countryside and beautiful beaches, and Bamburgh is up there with the best of them. With views of the Farne Islands and miles of sandy shores just waiting to be explored, you can blow away the cobwebs and enjoy a relaxing day by the sea.
If you're looking to take in some history during your visit, a trip to Bamburgh Castle is a must. The dramatic structure is the perfect place to take some holiday snaps, as you make your way around the castle's keep and get up close and personal with the thousands of historic artifacts housed within its walls.
Nearby, the National Trust recommends the Farne Islands, Inner Farne wildlife walk, an easy, ½ mile recommended exploration.
Cardigan Bay, Wales
With its weird and wonderful wildlife, enchanting beaches and quirky market towns, Cardigan is a treasure trove of excitement for holidaymakers. Whether you want to catch a glimpse of Cardigan Bay's playful dolphins or you're looking to explore some of the region's best cycling routes, there's something for everyone in this picturesque part of Britain.
If you're visiting with the family, there are activities aplenty down by the sea – where you and your young ones can try your hand at surfing, sea angling and seal spotting. For a unique view of the bay, hire a boat and head out onto the open waters – where you can view the port in a different light.
Another family recommended activity is a 2 mile hike, the Pen Anglas headland walk with views across Cardigan Bay.
The Bay at the Back of the Ocean, Scotland
Tucked away in Scotland, The Bay at the Back of the Ocean is so named because the ocean to the west runs to Canada. This stunning stretch of coastline is a nature lover's paradise and is home to the region's many herds of grazing sheep.
Whether you're planning a family holiday or a romantic break for two, pack a picnic and head towards this hidden hotspot for a break from the hustle and bustle of city life. Thanks to its secluded location and panoramic views, you're guaranteed a tranquil trip to this beautiful part of Scotland.
If you're planning a trip to Devon, a day at the Jurassic Coast is a must. Take a trip back through time as you view nature at its finest. With naturally formed rocks and fossils, you can see up close how time has altered this beautiful part of Devon.
School might be out but education is still on the agenda – and if you want to give your little ones a lesson in history, there's plenty on offer. From fossil hunting and museums to coastal walks and cycle routes, you're guaranteed an action-packed day that will please the whole family.
Ballycastle Beach, Northern Ireland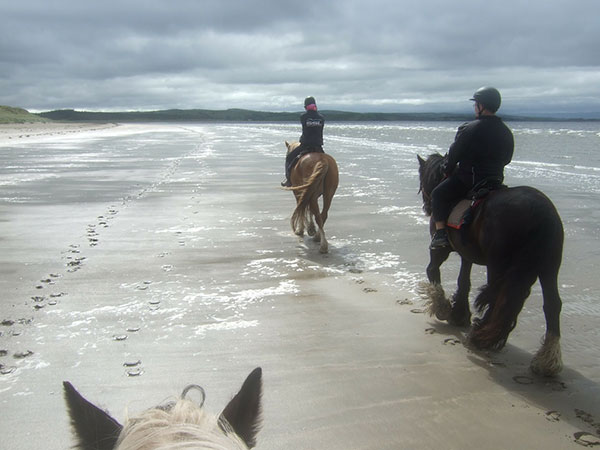 If you're an animal lover, this beautiful sandy beach in Northern Ireland is the perfect holiday destination. Here, visitors can explore the coastline on horseback – providing a truly unique holiday experience.
Running from the marina along to Pans Rock, there's watersports, fishing and swimming hotspots aplenty. With crazy golf, cafes and children's play areas on site, Ballycastle Beach caters for all ages. So whether it's a romantic walk along the promenade or a splash around in the sea with your little ones, you'll love every minute of your time in Northern Ireland.
With so much to see and do, you'll need more than just a summer to pack in all of these great British experiences!