By, Sarah Gristwood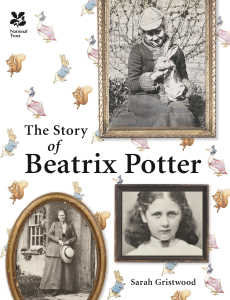 Today, we are pleased to celebrate the 150th anniversary of Beatrix Potter's birth! From Peter Rabbit and Jemima Puddleduck to the cheeky Squirrel Nutkin, Beatrix Potter's tales continue to delight children and grownups around the world. But few people realize how extraordinary her own story is. We asked historian Sarah Gristwood, author of the National Trust's The Story of Beatrix Potter, to reveal the top ten facts we should know about this celebrated children's author.
1. The writer famous for her stories of the countryside was forced to spend much of her life in London. 'My brother and I were born in London because my father was a lawyer there', she wrote, 'But our descent – our interest and our joy was in the north country.' As a good Victorian daughter, however, it was only in her late forties, when she married, that she was able finally to leave home.
2. Beatrix's salvation was the long summer holidays her family spent first in Scotland, then in the Lake District. She and her brother Bertram travelled with a menagerie of pets – a jay and an owl, a hedgehog called Mrs Tiggy, rats and bats, and a whole succession of rabbits, which Beatrix used to take out on a dog lead. But though devoted to them, she was quite unsentimental, often boiling the skeletons to study bone structure when an animal died.
3. From her mid-teens until the age of 30, Beatrix kept a diary in code, in which she often recorded feelings of despair. 'General depression. I wonder how they all feel underground?' The code was not cracked until 1958.
4. In the 1890's Beatrix's interest in the natural world turned to serious research in mycology. She tackled the vexed question of how fungi reproduce themselves, formulating the theory that they spread through an underground form, a mold. On April 1, 1897 the prestigious Linnean Society of London recorded a paper being read, 'On the Germination of the Spores of the Agaricineae' by Miss Helen B. Potter (Beatrix's real name). The paper was sponsored by George Massee of Kew Gardens since, as a woman, Beatrix could not do it herself, but though well received it was not then published. But Beatrix's theories have been proved broadly speaking right – and the Linnean Society have since acknowledged that she was 'treated scurvily'.
5. It was in 1901 that Beatrix privately published The Tale of Peter Rabbit, which she had first sent as a picture letter to the son of her former governess. The vast majority of her famous 'little books' would be written over a comparatively short period – the next twelve years.
6. Though Peter has always been the public's favorite character, he was no favorite of Beatrix. 'At one time I almost loathed Peter Rabbit, I was so sick of him', she wrote. Her own choice among her books was the lesser known The Tailor of Gloucester.
7. Beatrix's first romance, with her publisher Norman Warne, came to an unhappy end when he died just weeks after their engagement. But in October 1913 she married Lake District solicitor William Heelis and began a new life in the village of Near Sawrey, above Esthwaite Water, where she had already purchased Hill Top Farm.
8. She and William never lived at Hill Top, however. Instead they settled into Castle Cottage, just across a meadow. Hill Top was kept as a writing retreat, a repository for all Beatrix's treasures – and a place of pilgrimage for Potter fans today.
9. In the 20s and 30s, Beatrix's love of the Lakes saw her working hand in hand with the National Trust to purchase and preserve great tracts of England's most spectacular scenery, from Troutbeck to Tarn Hows. She also became a breeder, judge and conservator of the tough Herdwick sheep still seen in the area – a famous local figure in her well-worn tweeds.
10. After she died in 1943, Beatrix's ashes were scattered on the slopes above Hill Top. She arranged that the exact location should be kept a secret. But more than 150 million copies of her books have been sold, translated into more than 35 languages. And as, on July 28, we celebrate the 150th anniversary of her birth, her fame shows no sign of dying away.
To learn more about Beatrix Potter and her conservation efforts at Hill Top, visit http://www.nationaltrust.org.uk/hill-top