Christina Conte is a renowned food blogger and top-notch cook with a passion for the UK. In fact, she was even born on the other side of the Atlantic and visits her native Scotland often! Her blog, Christina's Cucina, is home to hundreds of delicious recipes that will make your mouth water, plus fun stories from her travels in England, Wales, Ireland, Scotland and beyond. We're delighted to be able to share Christina's recipes regularly here on The AngloFiles Magazine.
By Christina Conte
It's Friday, let's celebrate with this delicious recipe from our favorite food blogger, Christina's Cucina.
Denisa's Pimm's Cup Punch
serves 8-10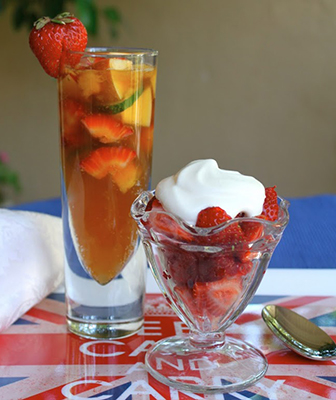 Make sure to start preparing the fruit a few hours ahead of when you want to serve it.
1 bottle Pimm's No. 1 Cup Liqueur (available at BevMo!)
Fruit (this is what my cousin uses, but choose whatever fruits you like)
2 nectarines, cut into nibble size pieces
1 apple, cut into nibble size pieces
small bunch of grapes, cut into halves if they are large
1 banana, cut up
strawberries, cut up
(In the pictured batch, I used: nectarines, apple, strawberries, pear, cucumber and orange)
2 bottles of white wine
2 12 oz cans Sprite (with sugar, no high fructose corn syrup
For step-by-step cooking instructions, please read more at Christina's Cucina.