We're so excited to announce the launch of a new blog series, "Europe & the U.S. in 99 Objects". Dr. Gabriella de la Rosa at the National Trust has started this project for the National Trust, originally published here, by delving into the Trust's collections  –  nearly 1 million objects held at over 200 historic properties across the United Kingdom –  to find objects with  interesting, unusual and unexpected connections to Europe. These objects and their stories are being published in the form of a digital diary on the National Trust Collections website.
A full explanation of the project is as follows:
"From Grand Tour treasures to the flotsam and jetsam of daily life, our places are brimful of remarkable objects that tell fascinating stories about Europe and us. In this year when political relationships have been so hotly debated, we have put together a selection of items from our vast collections that explore our rich and ancient cultural connections to the continent.
Drawing inspiration from the British Museum's 'History of the World in 100 Objects', this selection of objects – a digital diary of sorts – will help examine our nation's cultural influence on the continent, and equally, its influence on us.  Each weekday over a period of 99 days, we will be highlighting a particular object on our collections website. We'll be looking at everything from Old Master paintings and priceless heirlooms to some of the more quirky and bizarre items in our collection."
So without further ado…
Object #1 "One Foot in the Grave"

This is the world's first articulated prosthetic leg which belonged to Henry Paget, 1st Marquess of Anglesey. Paget led the charge of the heavy cavalry at Waterloo and lost his right leg in one of the last cannon shots of the battle. With characteristic understatement, legend has it, he turned to Wellington and said, 'By God Sir, I've lost my leg,' to which the Duke replied 'By God Sir, so you have!' Whilst Paget ultimately received this artificial limb patented by James Potts of Chelsea, his amputated leg went on to have a macabre afterlife. Monsieur Paris, owner of the house where Paget was taken for surgery, asked if he might bury the leg in his garden. Paris placed the leg in a tiny coffin with its own tombstone, giving rise, some believe, to the expression 'one foot in the grave.' The leg became a morbid attraction, drawing the upper echelons of European society from the King of Prussia to the Prince of Orange, and earning a tidy sum for Monsieur Paris and his descendants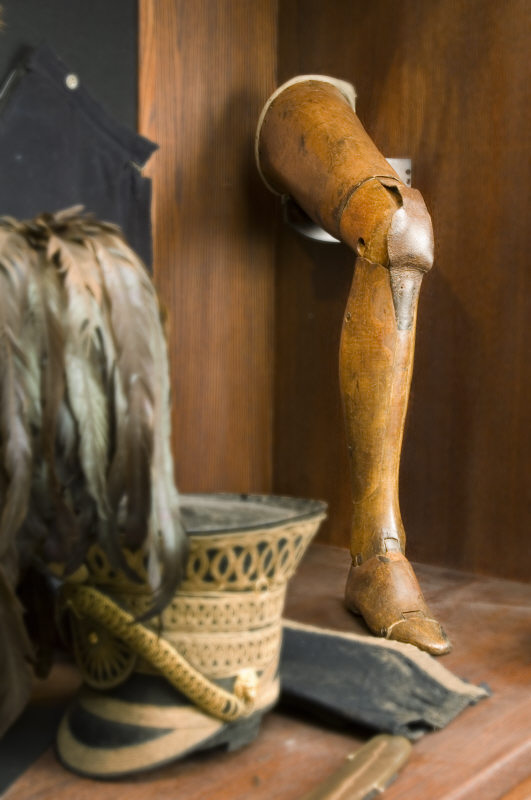 Category : Medical & health
Date: 1830
Materials: Lime wood and leather
Measurements: 1010 mm (Length)
Place of origin: Chelsea
Collection : Plas Newydd, Anglesey (Accredited Museum)