Christina Conte is a renowned food blogger and top-notch cook with a passion for the UK. In fact, she was even born on the other side of the Atlantic and visits her native Scotland often! Her blog, Christina's Cucina, is home to hundreds of delicious recipes that will make your mouth water, plus fun stories from her travels in England, Wales, Ireland, Scotland and beyond. We're delighted to be able to share Christina's recipes regularly here on The AngloFiles Magazine.
By Christina Conte
On the precipice of fall it's the perfect time to try a Fairy Cake!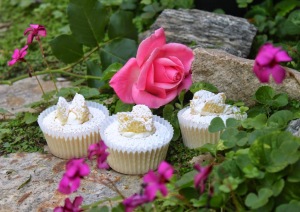 Tradtional British Butterfly Cakes (Cupcakes)
makes 3 dozen cupcakes
cake recipe adapted from Good Housekeeping Illustrated Book of Desserts
Ingredients
1 3/4 cups (14 oz) sugar
1 cup (8 oz)good quality, unsalted butter (I like Kerrygold) at room temperature
3 cups (16 oz) flour, good quality
1 cup (8 oz) buttermilk, room temperature
1 tbsp baking powder
2 tsp vanilla extract
1/2 tsp salt
4 large eggs, room temperature
To decorate
raspberry jam, good quality (I like Bonne Maman)
1 cup (8 oz) heavy whipping cream, whipped
powdered sugar for dusting
For step-by-step cooking instructions, please read more at Christina's Cucina.