This blog continues in the "Europe & the U.S. in 99 Objects" series. Dr. Gabriella de la Rosa at the National Trust has started this project for the National Trust, originally published here, by delving into the Trust's collections – nearly 1 million objects held at over 200 historic properties across the United Kingdom – to find objects with interesting, unusual and unexpected connections to Europe. These objects and their stories are being published in the form of a digital diary on the National Trust Collections website.
#14  Pope Clement XIV (Giovanni Vincenzo Antonio Ganganelli) (1705-1774)
Christopher Hewetson (Thomastown 1737 – Rome 1798)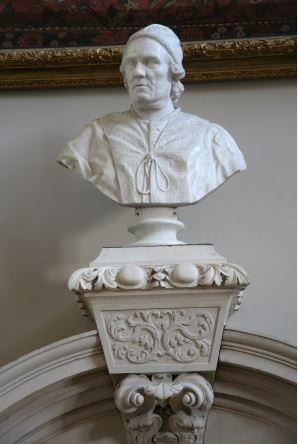 Category: Art / Sculpture
Date: 1771 (inscribed)
Materials: White marble
Measurements: 31 3/4 in high
Place of origin: Rome
Collection: Beningbrough Hall, North Yorkshire (Accredited Museum)
NT: 1191237
When did the word 'condescension' take on a pejorative meaning? One asks because it appears in correspondence related to this marble bust of Pope Clement XIV which was brought to England in 1771 by Mr and Mrs Earle of Beningbrough Hall.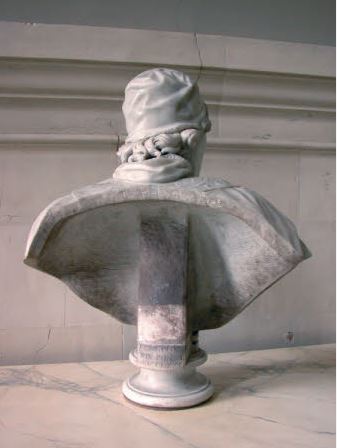 The couple had been travelling in Rome when Mrs Earle, feeling unwell, received papal permission to rest in a convent. Her husband later wrote that the Pope had 'shown us many marks of the most condescending distinction'. Mr Earle presumably bought this bust as a memento of what was for him, clearly a pleasant encounter.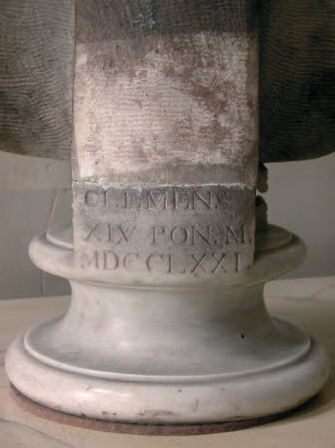 Clement XIV, pope from 1769 to 1774, was described as a man of formidable physique, and the present sculpture attests to this. The sculptor, Christopher Hewetson, skillfully conveys the Pontiff's fleshy, lined features and discerning sideways glance. He is most certainly an imposing presence.
Hewetson was born in Ireland but spent his career in Rome in the circle of neo-classicists. His busts of Clement XIV, of which this is the earliest of four versions, were acquired by Grand Tourists, often on the advice of the Scottish neoclassical painter and antiquities hunter, Gavin Hamilton. Clement XIV planned but did not live to carry out a radical extension of the Vatican Galleries and acquired much of the antique statuary for it from Hamilton. It was almost certainly through him that the pope was introduced to the Irish sculptor.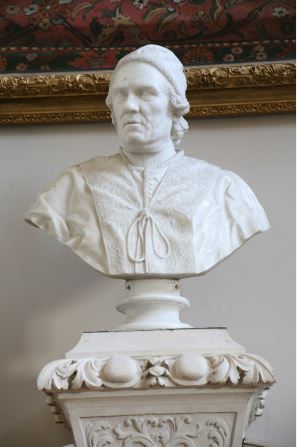 The aforementioned Mrs Earle, née Margaret Bourchier, was the niece and heiress of John Bourchier, who completed Beningbrough Hall in 1716. The Earles were in Rome from 1770 where they stayed at Cardinal Albani's villa in the town of Castel Gandolfo where the pope also had a summer palace.
Perhaps they had the occasion to enjoy papal condescension on more than one occasion.
#15 Grapplers
Staffordshire Pottery
Category: Ceramics
Date: 1830 – 1870
Materials: Earthenware
Place of origin: Staffordshire
Collection: Attingham Park, Shropshire (Accredited Museum)
NT 341691
When most people think of Staffordshire figures, they think of sentimental collectibles of courting couples, playful pets or resplendent royals.
But some figures depict curious and lurid subjects such as these naked figures, each holding a dagger and locked in combat. This physical contest may refer to an ancient form of Scandinavian duelling known as 'Bältespännarna', a bizarre and grisly sport where fighters, bound at the waist, fought to the death with short-bladed knives.
This figure is based on a sculpture in bronze zinc by the Swedish sculptor Johan Peter Molin which appeared at the International Exhibition of 1862 in South Kensington. The Staffordshire potter who produced this clay version probably took the design from an engraving which appeared in The Illustrated London News. The original sculpture now stands in front of the National Museum in Stockholm.