by Johanna Omelia, a Royal Oak Foundation Member
This post can originally be found in Come Fly with Us Magazine. This is an excerpt featuring Ms. Omelia's travels to National Trust properties, and travel tips!
We're an odd couple. I'm American, The Husband is British. Collectively, we are Ameripeans. We have different cultural biases, notions of history, and concerns when we travel the world. For instance, The Husband will peer out a medieval castle window in England, calculating how fast arrows could be launched through it, while my mind might be turned to central heating, or lack of it, despite excellent engineering skills devised by clever Romans 2,000 years ago. In Shimla, India, The Husband will look at the Viceregal Lodge, and marvel at how decisions affecting one fifth of the world's population during Queen Victoria's Empire were made from those very grounds. I will consider how many thousands of laborers it took to haul building materials up to the Himalayan foothills. The Husband speaks several languages. I speak English and Rubbish.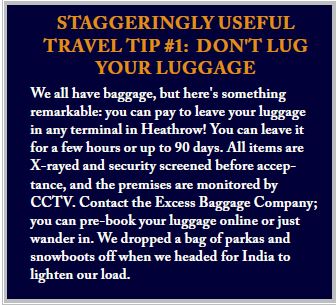 We are older travelers now, creaky and cranky. No more sleeping on floating rafts to avoid snakes and leeches in Asian jungles (never tug at a leech; pour salt directly on it to remove). No more ice axe-assisted descents down glaciers in the Antarctic. No thoughts these days of parachuting out of planes. I am all for comfort (The Husband says this is very American; I call it sensible). For me, a perfect day includes art museums and a great restaurant in a pretty city. The Husband is happiest when he is filthy from tramping through the woods, sleeping in a tent and gleaning breakfast from a hedgerow. We usually strike a nice
balance; we always have fun.
Be assured that I will not use these pages to confess and expound on my philosophy of travel, but I will share our most basic rule for comfort over the long haul: try to break the journey every eight hours wherever possible. With this in mind, we head to Iceland.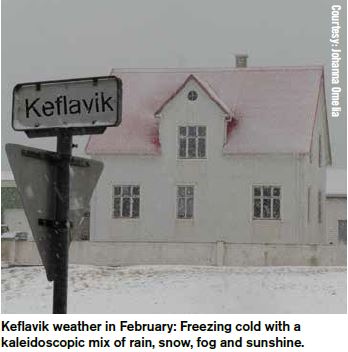 ICELAND
Do people visit Iceland in February? They do. Isn't it very cold in February? It is. And yet, whenever we're headed to and from
Europe from the West Coast of the US, we stop in Iceland, no matter what the month. The stop shaves hours off the flight time. It's less than eight hours from Seattle to Keflavik, and less than three onward to Heathrow. Regular readers are aware of how much we love this country for its dramatic scenery, welcoming people, and fantastic food, art and literature. With Icelandair, you won't pay extra to stopover for up to seven nights.
Another plus with flying Icelandair is that you can bid to upgrade your seat class before the flight. It all depends on what's available, so bid early and get lucky. We won upgrades with little extra expense in both our outgoing flight from Seattle in February and our home flight in April. If you're low on time, or you're not up for the hour-plus bus ride from the airport to Reykjavik, Iceland's coastal capital, Keflavik is an excellent option. A short 15 minutes from the airport, Keflavik is a former fishing village and a very sweet town. It has some good restaurants, places for lovely walks along the water, a geo-thermal pool complex and the charming Keflavik Hotel. (The Husband will not sit in a thermal pool. He says it is too sybaritic for an Englishman. I would happily soak until my fingers shrivel).
Stopover Buddies in Iceland – If you fly Icelandair and you're feeling sociable, the airline has a new program called the Stopover Buddy system. The idea is this: a flyer can apply to be matched with an Icelandair "buddy" with the same interests for a fun day out. Buddies can be cabin crew, ground staff or even the management of Icelandair (Birkir Holm Gudnason, CEO of Icelandair, is a Stopover Buddy!). Stopover Buddies are passionate about their country and its manifold charms. They represent a wide range of ages and interests.
We encountered Margret Halldorsdottir on one of our our flights. She signed on with Icelandair's first wave of Stopover Buddies. A slim and elegant flight attendant in her early 60s, Margret has been working for Icelandair since 1982. She lives in Kopavogur, loves nature, and is married with four daughters, three of whom are flight attendants. The airline seems committed to having travelers get the most of their visit. There's nothing like seeing a country from a local's point of view.
ENGLAND
Cornwall is in South West England, and one of our favorite English counties. Weaving through its twisting roads will test your driving abilities. The lanes are so narrow that your car's proximity sensor will beep constantly. If—heaven forbid!—you meet an oncoming car, one of you will have to back up to the nearest lay-by. Despite vertiginous impasses, it's a short drive from Heathrow to the area which has the most cottages offered for rent by the National Trust.
National Trust Properties Are Steeped in History
The National Trust is a 120-year old organisation which seeks to preserve the UK's history. As a charity, it relies for income on membership fees, donations, legacies, and revenue raised from commercial operations such as holiday rentals. Each of its 400 rental properties across the UK has a story to tell, from a 15th century Cornish manorhouse furnished with plundered goods (a must for Poldark fans), to Virginia Woolf's tiny, 17th century country retreat in Essex, to medieval Shute Barton in Devon which boasts the largest fireplace in England in which two oxen could be roasted at once.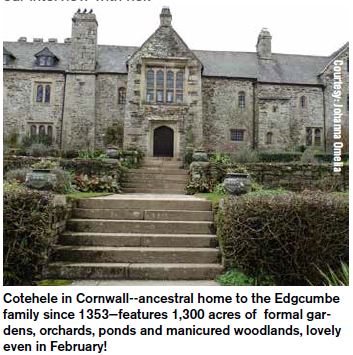 The National Trust's Sally Davies told us more in our interview with her.
Come Fly With Us Magazine: What is the history of the National Trust and its cottage rentals?
Sally Davies: We've been operating camping holidays since the 1930s and cottage breaks since the 1950s; they were originally kept deliberately simple and were described as "providing stone caravans." By 1973, there were 81 cottages, with the majority
in Cornwall. By 1981, the portfolio had expanded to 148 cottages. In 1985, cottages were made available to everyone equally, changing a 15-year policy which allowed National Trust members priority booking access. We now operate over 400 cottages
across Wales, Northern Ireland and England. These come in all shapes and sizes, sleeping from two–18 people. We have a number of clusters of properties on farms and in villages.
CFWUM: Which area in the UK has the most National Trust cottages for rent? The most National Trust properties?
SD: South West England.
CFWUM: Which of your rental properties has the most remarkable history?
SD: Every one is brimming with character and has been lovingly restored to reflect the original feel. There's a sense of occasion when you stay with the National Trust: from gatehouses and farmhouses, to lighthouses and castles. Treleddyd Fawr Cottage,
Pembrokeshire, is nestled in the coastal countryside of Wales. The one-bedroom cottage and its outbuildings date back to the early 1800s. To stay true to Treleddyd Fawr's classic country roots, local materials were utilised where possible and many of the original features are still on display. Godolphin House is hidden by woods and approached by twisting, sunken lanes. Godolphin is one of Cornwall's most outstanding historic houses. It was built by the tin and copper mining Godolphin family in the late 15th century and by the 17th century it was one of the most fashionable houses in Cornwall. The future Charles II took refuge at Godolphin in 1646, as he fled to the Scilly Isles. Highlights include a dining room which got its carved ceiling and linenfold panelling from a Portuguese ship sank nearby in 1526.
Wireless Cottage, Helston, Cornwall is part of the Grade II-listed Lizard Wireless Station, built by Guglielmo Marconi in 1900 for use in his early radio experiments. Sitting alongside what is now a wireless museum, Wireless Cottage is perched in dramatic isolation above the beautiful curve of Housel Bay, on the edge of Lizard village and close to Lizard Point itself. In Birmingham's city centre, 52 and 54 Inge Street are two of the eleven small houses that make up Birmingham's last surviving courtyard of "Back to Back" houses. Each house has been styled to a different historical period: 52 has a Victorian feel and 54 puts you back to the 1930s for a city break with a difference.
The Tower at Blickling, Norfolk lets you experience life in this 'mini castle' complete with a Rapunzel tower and a rooftop terrace offering panoramic views across rolling fields and woodlands, stretching to the coast. Set on the Blickling Estate it was previously used as the second Earl of Buckinghamshire's race stand. The grand, Jacobean Blickling Hall—once the vast property of Anne Boleyn's family— and traditional pub, the Buckinghamshire Arms, are just a fifteen minute walk away. During the fishing season there is excellent, free, coarse fishing available on nearby Blickling Lake.

CFWUM: How does the NT choose its offerings?
SD: When we add new cottages to our holiday collection,they become restoration projects and this is a way of keeping alive their historic and unique character. We restore around ten cottages each year, so our portfolio of cottages is slowly growing. By staying in them, our guests are not only experiencing these unique places, but are helping look after them and the surrounding landscape,
CFWUM: What are some of properties like up North in the Lake District?
SD: A few examples of our 19 cottages in the Lakes are Low and High Strawberry Gardens, charming white cottages which stand within metres of the water's edge of Windermere, England's largest lake. Close by, you'll find the hamlet of Near Sawrey, where Beatrix Potter wrote many of her children's stories. There's High Hallgarth in the hills about Ambleside…with no road access, a tin bath, and an outdoor loo, it's not for the faint hearted.