The delightful daffodil is Britain's quintessential spring flower, found blooming in our gardens from February through to May. As our gardens awaken from their winter slumber, discover where you can enjoy some of the best and treat your senses to the magic of spring.
Top spots for daffodils in the East of England
Daffodils are the emblem of springtime. As they start to make an appearance, discover the best places to see them this spring. It won't be long before they're creating carpets of yellow in the East of England.
Anglesey Abbey 

The gardens at Anglesey Abbey are always well worth a visit, but in spring they really come to life. With swathes of daffodils popping up all over the 114 acre estate, it's the perfect spot for a morning stroll or a picnic on the lawn.
Blickling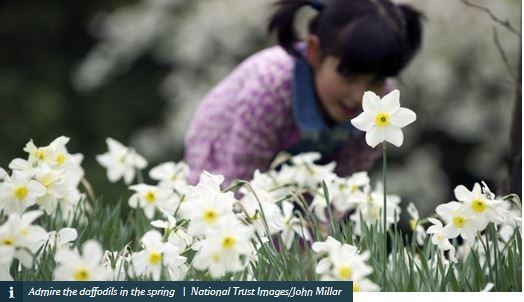 Visit Blickling Hall this spring to see the entire garden come alive with masses of colour and fragrances. With the grounds brimming with over 100,000 daffodils this is definitely one of the tops spots to see these golden flowers.
Felbrigg Hall

A host of golden daffodils can be seen carpeting the lawn in front of the Hall at Felbrigg, as spring gets underway. What other signs of spring will you discover?
Ickworth

Spring at Ickworth welcomes swathes of gold to the estate as we begin to see masses of heritage daffodils popping up throughout the pleasure grounds in front of this Italianate palace.
Melford Hall

A visit to this eclectic family home in springtime sees the moat bursting with these cheery trumpet shaped bulbs, including their own specially named Ulla and Melford varieties! Pop along for a walk around the grounds and follow up with a slice of cake in the tearoom.
Oxburgh Hall

A romantic manor house surrounded by a moat and set in a 70 acre estate, springtime at Oxburgh Hall sees the gardens and woodland erupt with drifts of daffodils, choose your own route or opt for one of our guided garden tours
Sutton Hoo

Home to one of the most important archaeological discoveries of all time, Sutton Hoo is a great place for an afternoon ramble. Stroll around the 255 acre estate to take in scenes of some amazing daffodil displays, why not finish off the day by popping into our award winning exhibition?
Wimpole Estate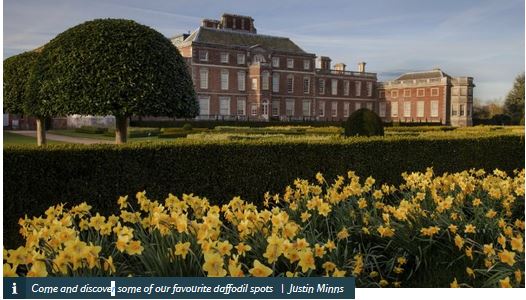 Another one of the best places to spot daffodils in the East of England. You'll discover amazing displays of daffodils in the pleasure grounds and as you walk down the plant hunter's walk, you'll also find many rare and exotic plants from around the world.