Rangers, volunteers and campaigners have celebrated 50 years of conservation at Formby.
The mile-long stretch of dunes and pinewoods on the Sefton coast was acquired by the National Trust in 1967, following a £20,000 fundraising appeal.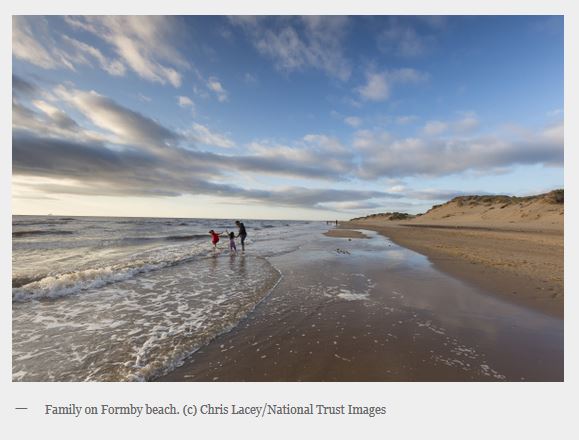 The 300 hectare site, which is now protected by law for its rare wildlife, was the first acquisition in the North West from the Trust's Enterprise Neptune campaign, a nationwide effort to protect Britain's coastline.
Rangers, volunteers and heritage campaigners marked the fiftieth anniversary of the National Trust at Formby with a special event on April 12th.
Justin Matthews, National Trust ranger, said: "50 years is a fantastic achievement and we are so proud to reach this milestone.
"We couldn't do it without our dedicated staff and volunteers and the support of our local community who work so hard to help care for the coast, managing it and maintaining it for generations to come."
John Phillips, chairman of Formby Civic Society and who joined yesterday's celebrations, said: "There are so many people who come to Formby because it's such a beautiful place. I moved here in 1999 to bring up my children.
"Before the railway came in the nineteenth century Formby was a small village. But it grew in the twentieth century and there were a series of attempts at building a holiday resort with a promenade – but it never took off."
The dunes at Formby were once used as a dumping ground for nicotine waste. Although the practice was stopped around the time the National Trust took on the site, large lumps of brown tobacco leaf still wash up on the beach after winter storms.
"50 years ago you used to get people driving down the beach," Mr Phillips said. Now, the only car you'll see by the shore is the ranger's jeep."
Sefton Council is currently consulting on plans to transfer more than 200 hectares of grassland at Lifeboat Road and Ravenmeols to the National Trust at Formby.
Rangers from the conservation charity already look after 300 hectares of dunes and pine woodlands at Formby, which is home to rare wildlife like red squirrels and natterjack toads.
The National Trust plans to continue conservation work to restore the dune habitat – which is one of fifty struggling 'priority' wildlife habitat types hand-picked by government as in need of support. Nationally, the Trust plans to create 25,000 hectares of new 'priority' wildlife habitats by 2025.