Britain is enjoying a holly blue butterfly boom as warm temperatures cause spring wildlife to flourish.
National Trust gardeners report one of the best years in decades for the holly blue butterfly, but nature experts confess that the reasons for the butterfly explosion remain a mystery.
The holly blue butterfly, which is the first of the blue-winged butterflies to emerge each year, is found across much of England and Wales. It is often seen in parks and gardens, where its caterpillars feed on holly and ivy.
Matthew Oates, National Trust nature specialist, said: "This is shaping up to be a fantastic year for the holly blue butterfly – perhaps the best since 1991.
"None of us are sure why they are doing so well. The weeks running up to Easter have been warm – but that alone can't fully explain the boom.
"The species goes through a boom and bust cycle, driven by a small wasp called Listrodomus nycthemerus which parasitises the caterpillars."
At Cwm Ivy, a nature reserve on the Gower Peninsula, South Wales, National Trust rangers say that winter coppicing work has had a hugely positive effect on the holly blue.
Claire Hannington, National Trust area ranger on the Gower Peninsula, said: "Our volunteers helped clear a woodland ride of scrub over the winter. It was the first time we'd worked on the ride and now there are plenty of sunny spots for the butterflies.
"A local butterfly expert told me that he'd seen up to 60 holly blues on a visit to the ride earlier this month – the best holly blue hotspot he'd seen."
Butterflies aren't the only wildlife to have been given a boost by recent warm temperatures.   Although the forecasters are predicting cooler weather this Easter Weekend there are still some top species to look out for over the holidays, National Trust nature expert Matthew Oates said.
Matthew Oates' less common wildlife to look out for this Easter Weekend
Holly blue butterfly. Matthew Oates said: "This is one of the best years I can remember for the holly blue butterfly. See it on holly and ivy in gardens and parks."
Ravens. "The largest bird in the crow family is very vocal at this time of year. They start nesting early – around Valentine's Day. You can see their rookeries in the treetops at Upton House, Warwickshire."
Bee flies. "It's been a fantastic spring from the common bee fly and its scarcer cousin, the dotted bee fly, both of which had distinctive straight proboscis. Once one of the rarest bee-flies in the UK, the dotted bee fly it has spread up from the south of England – but is still scarce. It buzzes around flowering shrubs in the garden and is identifiable by black hairs on its bottom and dots on its wings."
Orange tip butterflies. "Another butterfly that appears early in the year. Its orange-tipped wings can be seen fluttering in parks, gardens and along roadside verges from March. It's doing well this year simply because the weather has been so good."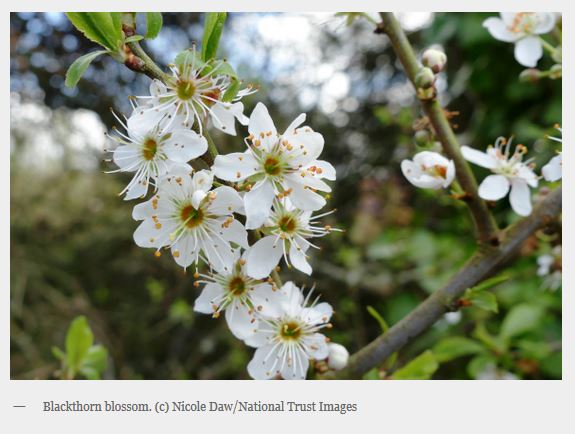 Matthew's top tip: "Look out for spring flowers and blossom," Matthew said." Blackthorn bushes and crab apple trees are awash with blossom. More common than bluebells, humble dandelions are also good important for pollinators like bees, wasps and butterflies. And they light up a commute along the M5."