This blog continues in the vein of the "Europe & the U.S. in 99 Objects" series. Descriptions were written by Dr. Gabriella de la Rosa at the National Trust has started this project for the National Trust, originally published here, by delving into the Trust's collections – nearly 1 million objects held at over 200 historic properties across the United Kingdom – to find objects with interesting, unusual and unexpected connections to Europe. These objects and their stories are being published in the form of a digital diary on the National Trust Collections website. Since we are woefully behind Dr. de la Rosa's 99 objects blog, and in a commitment to my art history education, I plan to highlight some objects that are also highlighted on the National Trust site for the ROF blog!
If there are any NT objects you see on your travels  that you would like me to highlight, or that you would like to write about, you know I love to hear from members. agoldman@royal-oak.org or https://www.facebook.com/royaloakfoundation/
Many people are attracted to beauty, and after my last post with Old Testament lessons I was looking for something light but just as visually interesting. There is less available information about this painting but one cannot help but be drawn to the timeless beauty of Ms. Mary Matthews.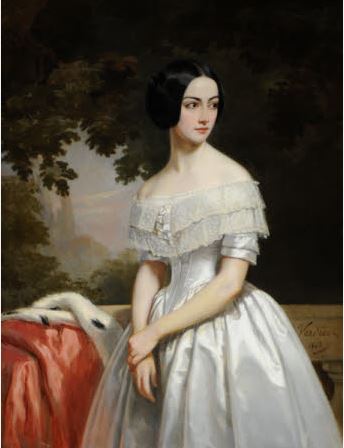 Visitors to Sizergh recently voted for this painting as the most popular object in the collection. Mary Matthews was the great great grandmother of Henry Hornyold-Strickland, the current head of the family. A photograph displayed near this painting shows a modern replica of Mary's dress being worn by Mary's great great granddaughter on her wedding day.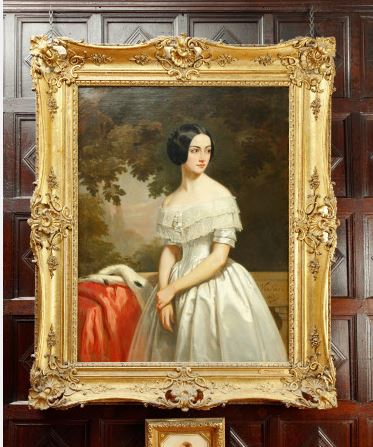 Everything about Mary's appearance is the highest standard of beauty, from her mathematically impossible waist circumference to her modest yet becoming off the shoulder shining white silk dress. Behind her a red cape with a fur collar is posed, while her face is positioned away from the viewer one gets the sense that she is aware of the viewers presence but is flirting, turning her head on purpose in order to disrupt eye contact, and although she is not quite smiling there is an expression of playfulness on the face. Her hands are clasped in front of her body, furthering the notion she has just turned her head for a moment, as the rest of her body position is at odds with her gaze. We stand in front of the work waiting for her to turn around and meet our gaze. Although it would make sense for the background to feature Sizergh Castle, the pointed towers do not match the current facade.
Category: Art / Oil paintings
Date: 1843
Materials: Oil on canvas
Measurements 3.77 feet x 2.8 feet
Collection: Sizergh Castle, Cumbria
NT 998472 http://www.nationaltrustcollections.org.uk/object/998472
Summary: Oil painting on canvas, Mary Matthews, Madame Julien-Francois-Bertrand de La Chere (1824-1890) by Marcel-Antoine Verdier (Paris 1817 – Paris 1856), signed and dated: Verdier/1843. Eldest daughter of Henry Matthews and wife of Julien de La Chere of Paris.
Provenance: Given by Henry Hornyold Strickland (1890 – 1975) with Sizergh Castle and its estates in 1950
Marks & Inscriptions:1843 (signed and dated)
Artist: Marcel-Antoine Verdier (Paris 1817 – Paris 1856), artist