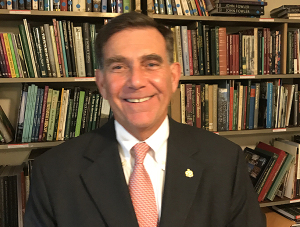 NEW YORK, NY – The Royal Oak Foundation, the U.S. affiliate of the National Trust of England, Wales & Northern Ireland, has appointed David Nathans as its new Executive Director & CEO, effective May 15.
"We are delighted that David is joining Royal Oak, and he is a perfect fit to lead the Foundation through a period of growth," said Lynne Rickabaugh, Royal Oak Chairman. "Royal Oak is very focused on increasing support and visibility in the United States for the National Trust's priority initiatives. David has the proven ability to help us achieve this goal by deepening our engagement with members and patrons who share our commitment to historic preservation."
Mr. Nathans comes to the Royal Oak with extensive nonprofit experience, most recently as the Executive Director of the Martha's Vineyard Museum, where he provided strategic leadership, program oversight, and effective management for the year-round history-focused museum. Prior to that, he was Executive Director of the Emerson Gallery at Hamilton College. Mr. Nathans also has experience in the corporate sector, having worked in advertising, marketing and communications with Ogilvy & Mather, Merrill Lynch, and The Sydney Company. He graduated from Hamilton College and The Wharton School, and he also studied at the Winterthur Museum and England's Attingham Summer School.
"It is an honor to be joining The Royal Oak Foundation, whose work I have long admired," Mr. Nathans said. "I am particularly delighted to be working with Royal Oak's board, staff, and members nationwide to contribute to and grow the Foundation's essential preservation efforts in partnership with the National Trust."
# # #
Established in 1973, The Royal Oak Foundation seeks to raise awareness of and advance the work of the National Trust of England, Wales, and Northern Ireland by inspiring support from the United States for the Trust's efforts to preserve and protect historic places and spaces – for ever, for everyone.
The National Trust was founded in 1895 and today has more than four million members in the UK. It is the steward of more than 350 historic sites of outstanding interest and importance as well as 610,000 acres of countryside in England, Wales and Northern Ireland and over 775 miles of coastline.