On September 11, 2018 while on a Royal Oak Board trip to England's Lake District, the group visited Rayrigg Hall, near Bowness (Windermere). Rayrigg is part Tudor and part Georgian, and the private family home of Mrs. Diana Matthews. Mrs. Matthews and her son Montague (Monty) toured the group through both the house and gardens before concluding with a cup of tea and cakes under a tent in the front yard.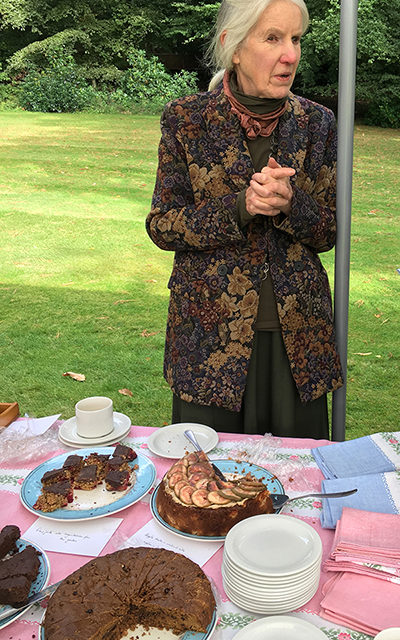 Mrs. Matthews, pictured above, was herself the baker. All present declared the cakes beyond delicious, and that these recipes must be shared if she would agree. Enjoy and happy baking!
Westmorland pepper cake
This is an 18th century recipe stemming from the trade with the West Indies and the Far East. Wool was exported from the west coast of Cumbria for carpet making in exchange for spices, brown sugar, molasses and rum.
Ingredients
4 oz butter or margarine
1 lb plain flour
1 tsp baking powder
8 oz brown sugar
4 oz raisins
4 oz currants
1 oz candied peel
½ lb black treacle
2 eggs
½ tsp ground cloves
½ tsp ground black pepper
1 tsp ground ginger
Method
1. Put oven on 150C or 300F
2. Rub flour, baking powder & butter together
3. Warm treacle
4. Add sugar, fruit, spices and treacle
5. Mix in beaten eggs
6. Line 9 inch cake tin with double layer of greaseproof paper
7. Pour in mixture & bake for 2 hours
8. Cool on wire rack, store for a few days. Also deep freezes well
Apple, date & walnut cake with fig topping
Ingredients
200 g light brown sugar
3 lg eggs
200 ml grapeseed oil
200 g s.r. flour
1 tsp bicarbonate of soda
1 tsp cinnamon
½ tsp nutmeg
60 g dates, chopped
60 g walnuts, chopped
2 Bramley apples (500g)
Topping:
5 tblsp co yo (top quality coconut yogurt – 99% coconut)
1 tblsp black treacle
6 fresh figs
Method
Whisk sugar & eggs until thick
Whisk in oil then flours & spices
Add dates & walnuts & apple
Put in 9" round greased tin
Bake for 60 mins on 180c
Roughly mix 'co yo' with black treacle leaving a swirling pattern, put on top of cake
Decorate with finely sliced fresh figs
Flapjacks
Ingredients
125g margarine
100g brown sugar
100g golden syrup
250g oats
3 tblsp loganberries
2 tblsp nuts, e.g. almonds, hazelnuts, walnuts
100g 80% chocolate
Method
Heat marg., sugar & syrup until melted
Stir in rest of ingredients
Put in 20cm square cake tin, lined
Bake 25 mins on 180C
Scatter with broken chocolate as soon as is out of oven & spread when melts
Alternative: use apple instead of loganberries, adding lemon to tone down sweetness
Chocolate pecan pie
Ingredients
10 oz dark chocolate, min. 60% cocoa solids, broken into pieces
7 oz pecans, chopped
3 eggs, beaten
8 oz light brown sugar
9 fl oz evaporated milk
1 tsp vanilla extract
2 oz melted butter
Method
Melt chocolate in bowl over hot water
Mix rest of ingredients and then stir in chocolate
Spoon into flan dish and bake at 160C for an hour