Famed American Political and Literary hostess of Cliveden was painted by John Singer Sargent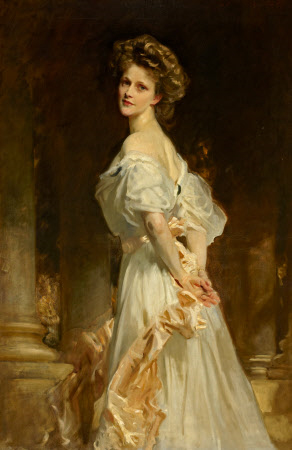 Cliveden in Buckinghamshire is a house associated with a long line of strong women who made a distinct impression on British history, from Harriet, Duchess of Sutherland (1806 – 1868) Mistress of the Robes to Queen Victoria to Nancy Astor, politian and literary hostess.
Born into a rich and glamorous Virginia family, Nancy Langhorne became the chatelaine of Cliveden upon her marriage to Waldorf Astor (1879–1952) in 1906. Thirteen years later, she was elected M.P. for Plymouth, Sutton Division, becoming the first woman to take her seat in the British Parliament.
There are many portraits Nancy at Cliveden, including a bronze head by the American sculptor Jo Davidson (1883 – 1952) whose sitters included many of the history makers of the 20th century. John Singer Sargent RA (1856 – 1925) painted Mrs Waldorf Astor in the early years of her marriage in 1908. The portrait is full of movement and full of life. The fluttering ribbon at Nancy's waist accentuates her slight frame and stresses her energy and physicality. Her simple off-the-shoulder gown is light; her only ornament a gold bangle.
Nancy's fluid figure glides across the canvas, looking as if she is about to walk into a column while gazing directly at the viewer. Sargent had a profound understanding of his sitters and captures Nancy's capricious nature and her infectious enthusiasms which charmed all those in her orbit. Responding to the woman, he rejected using conventional feminine attributes, such as flowers, fruit and infants. It has been suggested that Sargent intended to paint Nancy with her infant son on her back, accounting for her twisting pose. It is just as likely that the posture may have been inspired by the depiction of a bacchante or by Lady Hamilton in one of her famous 'Attitudes.'
Sargent's paintings chronicled the women of his time; plutocrats, society hostesses, aristocrats, performers and friends. Portraits include leaders in the fight for women's rights on both sides of the Atlantic; such as Miss Carey Thomas, the feminist President of Bryn Mawr College (1894 -1922) and Elizabeth Garrett Anderson ((1836-1917), physician and suffragist. Along with Winslow Homer and William Merritt Chase, Sargent was part of a movement of innovative artists who depicted the new type of American woman. Defying tradition, Sargent's paintings underscored female vitality at a time when most portraitists emphasized the passivity of their female sitters.
"You look beautiful in Room No. 1, beautiful but interesting. Many people tumbled to your captious and penetrating charm … There is a glass over you … which I recommend you keep on it at Cliveden."
His painting of Nancy Astor was exhibited at the Academy in 1909. He wrote to her on April 28 to say, "You look beautiful in Room No. 1, beautiful but interesting. Many people tumbled to your captious and penetrating charm … There is a glass over you … which I recommend you keep on it at Cliveden."
Today, Sargent's painting hangs in the Great Hall at Cliveden, well above head height, compounding the sense of the Nancy's independent nature. Her portrait continues to preside over Cliveden, as she presided over the social, political and cultural circles who met there.
Visit Cliveden
Explore the world of Nancy Astor during your next visit to Cliveden. Walk the grounds at dusk as she would have when you stay in one of the cottages on the property. Choose from two cottages available including Ferry Cottage and New Cottage.
Cliveden's two self-catering holiday cottages are a real home from home and are located on a stunning stretch of the River Thames. Or if you are looking for that extra special treat the house is now a luxury five-star hotel. Learn more about staying at Cliveden.