by Jennie McCahey, Programs Director
I am not sure who is more excited when the new Royal Oak Foundation Drue Heinz Lectures & Tours Brochure arrives in the mail and the new season is launched on the web—Kristin and me, or our members and supporters!
People often wonder what goes on behind-the-scenes planning each season's lecture topics. I think you would be surprised at how much of it's a balancing act of complicated speaker schedules combined with hundreds of phone calls and a lot of internet research. Both Kristin and I are constantly trying to keep up with new books released in the UK about British history, gardens, houses, and collections. Our spreadsheet is full of publishing dates and lecture topics so we can bring to you the latest works written by favorite speakers familiar to Royal Oak audiences, as well as new authors and topics found through publishing contacts, other lecturers, and even amazon.co.uk forthcoming books. Fun fact: we first discovered celebrated author Anne Sebba when her book on William Banks first popped up on amazon.co.uk. After accepting our first invitation, she has been a loyal Royal Oak speaker ever since! And on the rooftops of Knole, Robert Sackville-West first told us he was working on his new book about the scandalous side of his family's history (the illegitimate Sackville members at Knole) and we are thrilled he is willing to travel to the states to celebrate the US launch this Spring season.
The timing of some lectures often turns out to be fortuitously (and completely accidentally!) connected to pop-culture events. After my spy-loving eye was attracted to a 2013 Aurum book about Bletchley Park, we were able to arrange for historian and author Sinclair McKay to lecture in Fall 2014. Luckily for Royal Oak, his lecture tour dovetailed with the release of the popular movie Imitation Game and followed the revelation from H.R.H. the Duchess of Cambridge that her grandmother worked at the Bletchley estate.
Other lectures start as vague ideas inspired by art exhibits and tours we have attended, visits to National Trust houses and collections, movies or PBS shows, and even comments we hear from you while we're on the road. Wondering about hunting and sporting life at English estates after too many viewings of Gosford Park and Downton Abbey led to commissioning Jeremy Musson's lecture From Fish to Fowl. So many National Trust properties feature amazing stables and have a long history of hunting and shooting parties and after Kristin and I visited Ightham Mote and saw the fantastic billiard room, we knew the topic was perfect. On the other hand, Curt di Camillo's Jewels of Scandal and Desire lecture started from a casual conversation and drinks with a few members following a lecture at the Union League in Philadelphia.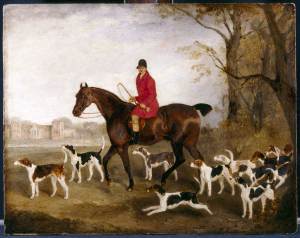 After recounting juicy stories associated with jewelry and the British nobility, all of us around the table started to think it would make an interesting lecture topic. Listening to members talk about their dogs (a lot of King Charles Cavalier spaniels) and seeing paintings of homeowners and their dogs or elaborate dog collars at English estates (Chatsworth) led to Gareth William's House & Hound lecture this season.
While we would love to take credit for Royal Oak's lectures being "on trend," the reality is that they are planned and discussed at least a year ahead. When I heard Historic Royal Palaces Co-Curator Tracy Borman speak in September about Thomas Cromwell at the Tower of London, I started to think about lectures for when the U.S. edition hit bookshelves. Who knew that Wolf Hall and Bringing Up the Bodies would be brought to the US by the Royal Shakespeare Company in the same season?
So, while the phone is ringing and Spring 2015 tickets are already selling briskly, Kristin and I will have one foot into coordinating this season and another in Fall 2015-2016 planning. Kristin is delving into a topic involving culinary history (think of all the kitchen gardens) and table accoutrement; and I started reading a new book about housekeepers at English country houses including Sarah Wells at Uppark, West Sussex (1880-1893) and Ellen Penketh at Errdig, Wales (1902-1907).
Cheers to the start of a great season
by Jennie McCahey