One of our blogging partners, Christina Conte, is a Scots-Italian with a flair for kitchen and a soft spot for the National Trust. She runs an incredible blog, Christina's Cucina, on cooking, food and culture, which we encourage you to check out. As a frequent UK traveler and Royal Oak member, Christina took on a very traditionally British seasonal treat: Hot Cross Buns. Try out the recipe to tide you over until you're able to get a batch made on the other side of the Atlantic!
Chances are, if you are on this side of the pond, the answer to the question posed in the headline is 'no', which is such a shame. Although the nursery rhyme is probably becoming less and less popular, the brioche-like treat is as popular as always in the UK and many other countries.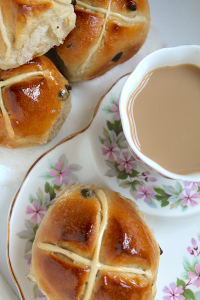 Last year, I shared a lovely recipe for Hot Cross Buns on my blog (Christina's Cucina) which was actually not my own, but adapted from a storybook rabbit, of all things! Mrs. Rabbit's Hot Cross Buns recipe and post was immediately shared all over the world, with comments coming in as far as Australia! However, I didn't expand on the history of Hot Cross Buns or the interesting story behind the creator of that storybook bunny, Beatrix Potter.
My children grew up with Beatrix Potter's books, videos, toys and even towels, so when we visited the UK a few years ago, one of the places we visited, using our Royal Oak Foundation membership ( https://www.royal-oak.org/join/ ), was Hilltop, Near Sawrey,( http://www.nationaltrust.org.uk/hill-top/ )  the home of Beatrix Potter.
I always purchase a family membership each time we visit the UK because it gives us the opportunity to see an incredible number of properties which we would otherwise be unable to visit.
Our family had such a connection to Beatrix Potter and her stories that it was such an honor and so humbling to be able to walk through her garden and visit her home.
One thing we all found absolutely charming was the number of rabbits in her garden. In retrospect, we truly should not have been at all surprised; but they were just darling!
Beatrix Potter was inspired to begin drawing animals from her visits to the Lake District with her family, as she was growing up. She later moved there and grew to love the area so much, that she was instrumental in the formation of the National Trust as we know it today.
Beatrix and the National Trust
She worked closely with the National Trust, helping it to acquire land and manage farms with a view to long-term preservation. In one of her letters to Eleanor Rawnsley in 1934, she wrote 'I wish there may be a sufficient representative number of the old farms in the hands of the Trust.'
Beatrix was a friend of Canon Hardwicke Drummond Rawnsley – one of the three founder members of the National Trust. When she died in 1943, she left 4000 acres of land and countryside to the National Trust, as well as 14 farms.
All of these farms are still working farms managed by tenant farmers, in accordance with her wishes, and we continue her conservation work in the Lake District to this day.
Near Hilltop, we also visited the Beatrix Potter Gallery and Hawkshead.
Driving through the twisty roads of the Lake District and taking in the gorgeous views all around, it was easy to understand why Beatrix Potter fell in love with this area.
At the gallery, we were able to see many of her works of art on display, along with other memorabilia. Of course, being part of the National Trust, our Royal Oak Foundation provided us with free admission.
It was fabulous to see the original drawings from the Peter Rabbit series which have been recreated in millions of books in so many different languages all over the world!
We then went on to visit Wray Castle, which Beatrix and her family had stayed in during one of their holidays to the Lake District when she was 16 years old. It's a gorgeous castle-like building and the interior is just as impressive as the exterior, and once again, our Royal Oak membership afforded us the visit, as this is just one of the many National Trust properties in the Lake District.
Now back to Mrs. Rabbit's Hot Cross Buns, which are traditionally made for Good Friday, hence the cross on top, however they are definitely not eaten only one day a year anymore. Not only are Hot Cross Buns being made and eaten during the Easter season in Britain, but many other traditional recipes such as lamb with mint sauce, roast pork, Simnel cake and Chocolate Easter Egg Nest Cakes. Here is the recipe for Mrs.Rabbit's Hot Cross Buns, along with some other traditional British Easter recipes so you can try all these glorious treats in your own home!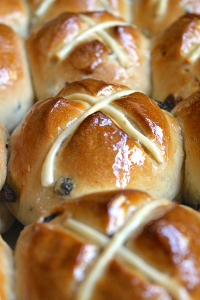 MRS. RABBIT'S HOT CROSS BUNS
Recipe adapted by Christina's Cucina Ingredients (U.S.)
10 oz milk
1/4 cup butter (1/2 stick), melted, if using a bread machine
1/4 cup sugar
3 1/2 to 3 3/4 cups all purpose flour
1 tsp. mixed spice (you can use 2 tsp, but I like to use less)
U.S. bakers: pumpkin pie spice, or a mixture of cinnamon, nutmeg and allspice (a touch of cloves, too) may also be used; more cinnamon and less of each of the spices that follow
1 tsp salt
1 tsp. dried yeast
3/4 cup mixed dried fruit (we used raisins/currants) Glaze
2 tbsp sugar
2 tbsp water
Add the milk and melted butter to the bread machine bowl. Place the flour, sugar, salt and mixed spice on top of the liquid and make a well in the center, to which the yeast can be added. Set the bread machine to the dough setting and press start. Add the dried fruit when the machine beeps to "add ingredients".
When the cycle has ended, make sure the dough has doubled in size, then shape into 12 equal pieces and place in a buttered 9″x13″ pan.
Next, make two perpendicular cuts with a sharp knife or blade on the top of each bun. If you are going to make the dough for the crosses, just mix a little flour and water into a dough and roll into thin ropes. Wet the cross and place the thin ropes into each bun.
Allow the buns to rise until almost doubled in size. I place mine in the oven with a jug of boiling water (so they won't form a crust). Then remove from the oven, and set it to 400°F (200°) and allow to come to temperature before placing the buns to bake in the center of the oven for about 15 to 18 minutes, or until golden brown.
Meanwhile, make the glaze by melting the sugar in the water in a small pot over low heat. Allow to simmer for about two minutes, then brush the buns with the glaze as soon as they come out of the oven.
Allow to cool slightly before serving, preferably with a hot cup of tea .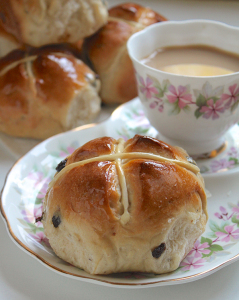 MORE TRADITIONAL BRITISH EASTER RECIPES
Roast Pork with Crackling recipe from Delia Smith
Roast Shoulder of Lamb recipe from James Martin
Simnel Cake recipe from Mary Berry
Chocolate Easter Egg Nest Cakes
Check out Christina's Cucina for more wonderful recipes! Don't forget, your Royal Oak membership grants you unlimited access to all the National Trust properties Christina visited, and hundreds of other unique country homes, gardens, landscapes and coastlines. Join Now