Christina Conte is a renowned food blogger and top-notch cook with a passion for the UK. In fact, she was even born on the other side of the Atlantic and visits her native Scotland often! Her blog, Christina's Cucina, is home to hundreds of delicious recipes that will make your mouth water, plus fun stories from her travels in England, Wales, Ireland, Scotland and beyond. We're delighted to be able to share Christina's recipes regularly here on The AngloFiles Magazine, beginning with the perfectly British way to celebrate Mardi Gras next week: Shrove Tuesday Pancakes!
By Christina Conte
As a little girl in Scotland, I remember bringing these lovely pancakes to school the day before Ash Wednesday, which is called Shrove Tuesday in the UK (or Mardi Gras, aka Fat Tuesday in the US).
I used to get so excited because we only made them once a year (which made them a special treat), and I just loved how they tasted! Unfortunately, these pancakes are another source of confusion where the name, "pancake" means something different between the US and the UK. American pancakes are typically light and fluffy and are eaten with syrup for breakfast, whereas British pancakes look more like crepes. However, they are not the same as the French version, as the batter is a bit thicker.
This is another one of those holiday dishes which I could kick myself for only making once a year. Traditionally, they are served sprinkled with sugar and drizzled with lemon juice, which is exactly the way I love them!
I hope you try them as they are very simple to make, but actually look quite impressive! I just use a regular non-stick pan, no need for a crepe pan or any other special equipment.
Traditional British Shrove Tuesday Pancakes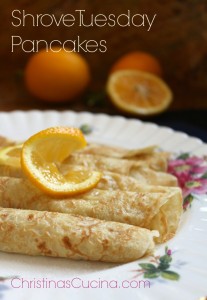 adapted from a Mrs. Beeton's recipe
makes about 8 pancakes
Ingredients
3/4 cup plus 2 tbsp (100 g) flour
1/8 tsp salt
1 egg, beaten
8 oz milk
(2 tbsp limoncello or your favorite liqueur, or water)
butter for pan
lemon wedges and sugar
For step-by-step cooking instructions, please read more at Christina's Cucina.
Experience authentic UK cooking for yourself with a trip to the other side of the Atlantic! All you need is your passport and your Royal Oak member card! Join Now