Royal Oak members enjoy special prices on all lecture tickets. Join Now
We are pleased to present our Spring 2016 Drue Heinz Lecture Series. Discover the best of the UK with renowned speakers like the Duchess of Rutland, best selling author Sonia Purnell and even one of the legendary Beefeaters!
General registration begins on February 24. To register early and reserve your spot at these lectures, become a Heritage Circle or Supporting Level member today, call 212.480.2889 ext. 205. You'll unlock exclusive, behind-the-scenes tours and priority registration while also supporting our mission!
Here's what's on tap this season with Royal Oak lectures:
CHARLES BERKELEY—800 Years of Family History: Berkeley Castle
In a country rich in history, only the Berkeley family can lay claim to having passed their estates from father-to-son since Saxon times. Their home, Berkeley Castle, is the oldest continuously occupied castle in England after the royal fortresses of the Tower of London and Windsor Castle. The Castle was granted to the first of the Berkeleys, Robert Fitzharding, by Henry II in 1153. And for generations, the Berkeleys remained close to the throne as able administrators and fighters. The Castle's forbidding exterior is skillfully designed to keep the enemy out with trip steps, arrow slits and murder holes. The interior features a 14th-century great hall, medieval kitchens, and a morning room created within a Norman chapel. Over the centuries, it's been furnished with tapestries, paintings, silver, and other treasures. Highlights include Francis Drake's cabin chest, Queen Elizabeth I's bedspread, and the banner the 4th Earl Augustus Berkeley rode under at the Battle of Culloden. If its walls could talk they might whisper about the notorious murder of King Edward II which took place here in 1327. Or echo back the first performance of Shakespeare's Midsummer Night's Dream, written for a Berkeley family wedding in 1596. More recently it has served as a silent player and set for the hit television adaptation of Hilary Mantel's Wolf Hall. Castle Director and heir, Charles Berkeley will illustrate the Castle, his family home, and discuss how 27 generations have enhanced and maintained an irreplaceable piece of history.
New York, NY: May 2
Philadelphia, PA: May 3
Chicago, IL: May 5
IAN COX—"The Heart of England": The History and Design of British Pubs
The 17th-century diarist Samuel Pepys described the pub as the heart of England. Indeed, a history of pubs can be traced back to Roman occupied taverns and Anglo-Saxon alehouses. By the 18th century, alehouse evolved to "public house," a private establishment providing alcohol to the public to be consumed on the premises. By the mid-19th century, as cities grew the number of public houses sky-rocketed and became important leisure sites for the working class. The Victorian era saw the creation of flamboyant pub interiors, featuring sumptuously decorated mirrors, tiled walls, and etched glass "snob screens." Examples include the exquisite Crown Bar in Belfast, with Italianate paneled "snugs" or private drinking areas; the 1901 Jacobean revival Barton Arms in Birmingham featuring detailed Minton tiles; and The Black Friar in London whose high style Arts & Crafts interior is clad in colored marble and ornamental friezes.  Art historian and former Christie's London Director of Studies Ian Cox will discuss the fascinating history of pubs in 19th to early 20th century Britain.  He will illustrate their changing architectural and interior style and show how new technologies and burgeoning social and economic changes led to the popularity of such lively establishments.
New York, NY: March 30
Philadelphia, PA: March 31
Atlanta, GA: April 4
Chicago, IL: April 5
Charleston, SC: April 7
DR. OLIVER COX—Gentry, Generals and Industrialists: Country Houses in the Thames Valley
Throughout British history the Thames Valley has been synonymous with estates owned by the rich and powerful. This lush area is dotted with lavish country houses and castles such as Windsor Castle; former Prime Minister Benjamin Disraeli's villa Hughenden; and the sprawling Cliveden House, designed by famed architect Charles Barry. It is also the site for many of England's most celebrated (and posh) sporting events: the Royal Ascot and the Royal Henley Regatta, which first launched in 1839. From the Duke of Marlborough and his astounding Blenheim Palace, to the pioneering motor manufacturer Lord Nuffield, and East India Company Nabob Francis Sykes who purchased Basildon Park in 1771, to gentry that date back to the Domesday Book, the country houses of the Thames Valley are architectural marvels that tell a fascinating story of England. In this richly illustrated lecture, Oxford University Fellow Dr. Oliver Cox, will explore the history of these houses and their influential owners, outlining how changes in fashion, money and power created a rich tapestry of interlinked country houses.
Philadelphia, PA: May 9
Boston, MA: May 10
New York, NY: May 12
ALAN KINGSHOTT, Chief Yeoman Warder—500 Years Guarding the Tower of London
Over 1,000 years of history can be unearthed at Her Majesty's Tower of London starting from the establishment of Tower Hill at the end of 1066 and the White Tower built in 1078.  Used as a royal residence and a prison, an armory and a treasury, the Tower has played a prominent role in English history. Now in the care of Historic Royal Palaces, the Tower serves as the main gateway into the city of London from the Thames. It is also the operational hub of the Royal Mint and home to the Crown Regalia, including the Imperial State Crown. The Tower of London has been expertly guarded by the Body of Yeoman Warders—more commonly known as "Beefeaters"—since 1485 when it was formed by King Henry VII. It is thought the nickname derived from their position as a detachment of the Yeomen of the Guard/the Royal Bodyguard, which permitted them to eat as much beef as they wanted from the King's table. As the most senior member of the Sovereign's Bodyguard based at the Tower of London, Chief Yeoman Warder Alan Kingshott will explore the fascinating role of the beefeaters, and the traditional ceremonies held within the grounds including the Ceremony of the Keys, the official locking up of the Tower that has taken place every night without fail for 700 years.
New York, NY: May 18
Philadelphia, PA: May 19
SONIA PURNELL—Clementine: The Life of Mrs. Winston Churchill
Without Winston Churchill's inspiring leadership, Britain would not have survived its darkest hour against the Nazi menace. Without his wife Clementine, however, he might never have become Prime Minister. Not only was Clementine a most trusted confidante, she was involved in crucial decisions of war and exerted influence over him and the government that would seem scandalous to modern eyes. Her charm and humanitarian efforts earned her deep respect from the public and behind closed doors at Whitehall. However, Clementine's life was far from gilded. Born into impoverished aristocracy, her mother was a known adulteress and gambler, and by the time Clementine entered society she was the target of cruel snobbery. In Winston, she found a partner, and in his career she found her mission as Britain's 'First Lady.' Noted author Sonia Purnell explores the peculiar dynamics of this fascinating marriage based on her book Clementine: The Life of Mrs. Winston Churchill. From personal and political upheavals, through the Churchill's 'wilderness years' in the 1930s, to Clementine's efforts during World War II, Ms. Purnell presents the inspiring but often ignored story of one of the most important women in modern history.
San Francisco, CA: March 15
San Diego, CA: March 16
Los Angeles, CA: March 17
Boston, MA: March 21
HELEN RAPPAPORT—'Such an Unsafe Throne': Queen Victoria, Russia and the Romanovs
Following the Crimean War (1854-1856), an intense period of Russophobia took hold of the UK. While Queen Victoria had a deep mistrust of Russia—deeming it a place with an 'unsafe throne'—rapprochement came as her grandchildren reached marriageable age and her ambitions for suitable dynastic unions became urgent. The Hesse Princesses Ella and her sister Alexandra were Victoria's favorite granddaughters—she became a surrogate mother after their own mother Princess Alice died in 1878. While the Queen initially resisted Ella's marriage to Grand Duke Sergey Alexandrovich, and Alexandra's to Tsarevich Nicholas, eventually she conceded that both must be free to marry for love. Despite her misgivings, the Queen had an abiding influence over the upbringing of her great-grandchildren, who grew up in a very English domestic atmosphere at their home in Russia, spoke fluent English and revered their English 'granny.' After the Queen's death in 1909, cordial relations between Britain and Russia continued and the entire Romanov family visited their English cousins at Cowes on the Isle of Wight. Sadly, this accord did not continue after the Revolution; King George V reneged on his offer of asylum to the imperial family, and Queen Victoria's beloved granddaughters perished in the Russian Revolution of 1917. Spanning 80 years, from 1839 to the murder of the Romanovs, historian and best-selling author Helen Rappaport will explore the British Royal family's tumultuous relationship with Russia.
New York, NY: April 25
Philadelphia, PA: April 26
Los Angeles, CA: May 2
San Francisco, CA: May 3
Washington, D.C.: May 5
New Orleans, LA: May 9
THE DUCHESS OF RUTLAND—Capability Brown and Belvoir Castle: Discovering a Lost Landscape
In the early 1800s, the gardens at Belvoir Castle, Leicestershire were considered to be the finest in the land. Although the gardens were rumored to be the work of Lancelot 'Capability" Brown (1716-1783), nothing could be confirmed until now.  In 2015, after 235 years, Brown's plans for the Belvoir gardens were discovered hidden in the castle archives. They were drawn up for the 4th Duke of Rutland in 1780 but Brown died in 1783 before the project could be fully realized. Unfortunately, the Duke had to shelve the plans due to ducal financial disasters. But in the 19th century, family fortunes underwent a dramatic turn and improvements at Belvoir began anew.  The 5th Duke of Rutland, with his ambitious wife, Elizabeth, rebuilt Belvoir in fashionable Gothic revival style and chose to continue with Brown's garden plans. While at first glance, much of Brown's design is still instantly identifiable in the landscape, closer scrutiny reveals huge insights into the creative direction in the latter stages, revealing one of the most radical landscapes of his career. The 11th Duchess of Rutland, Emma, will discuss the development of the Belvoir gardens and the breakthrough discovery of the lost plans. She will give a visual tour of the Pleasure Grounds – the formal terraces, woodland and spring gardens, which have been painstakingly restored to coincide with the tercentenary of Capability Brown's birth in 2016.  She will explain how Brown's enduring landscape is still as appropriate for today and – crucially – for the next generation.
New York, NY: May 23
Philadelphia, PA: May 26
ABRAHAM THOMAS—The Grand(er)Tour: Architectural Imagination Beyond the Classical World
For centuries, architects have used travel to fuel their cultural and artistic education. From the late 17th to early 19th century, the Grand Tour of Greek and Roman sites of antiquity was de rigeur for any architect, providing a finishing school for young men wishing to round off their academic training. However, the 19th century witnessed travel further afield, to Southern Spain, the Middle East and India, seeking inspiration from Ancient Egypt or the Islamic world. J.D. Crace's Egyptian drawings, James Fergusson's studies of Indian architecture, and Christopher Dresser's designs from Japan among others transformed European and English collecting habits and influenced design taste. They also created new fields of architectural discourse. Today, the ambition and hunger for architectural travel continues to evolve. Rather than visiting Athens and Rome, architects now travel to places such as Lagos and Dhaka to understand contemporary urban planning. These wider global influences can be seen in the work of architects such as Jean Nouvel and David Adjaye. Using objects from the Royal Institute of British Architects' collection, architectural historian Abraham Thomas will illustrate various journeys undertaken by designers in the past 300 years, revealing how these adventures expanded and enriched the intellectual imagination—resulting in buildings that have changed the architectural landscape of London, Paris, New York and the rest of the world.
New York, New York: April 11
Philadelphia, PA: April 12
Washington, D.C.: April 14
Boston, MA: April 19
Chicago, IL: April 20
---
SUPPORTING-LEVEL MEMBER TOURS
Please note all tours are limited to 20 people and require walking, standing and possible stair-climbing. Tours are open to Royal Oak supporting-level members only. Become a supporting-level member today by clicking here or calling 212.480.2889 ext. 205. Upgrade
Private Tour: Kahn and Burden Mansions New York City Date & Time TBA
At the turn-of-the-century, Carnegie Hill was New York's premiere residential neighborhood. Two mansions still standing are the Otto Kahn and James Burden Mansions, now The Convent of the Sacred Heart School.  Built in 1902, the Burden Mansion is a picture of opulence with a grand marble staircase and Tiffany & Co. skylight. It's easy to imagine the lavish parties hosted in the grand ballrooms for guests like Mark Twain and Giacomo Puccini. The adjacent 1918 Otto Kahn Mansion is an Italian Renaissance revival masterpiece modelled after the Papal Chancellery in Rome with a stunning interior courtyard.  Join Royal Oak for a private tour of these buildings with Easton Architects, the firm responsible for the master plan that has guided the on-going restoration work.  Explore this stunning space as the Eastons discuss their process (and struggles!) when working with historic properties.
Location:  Convent of the Sacred Heart, 1 East 91st Street
Charge: $50 supporting-level members; $60 one non-member guest
BEHIND-THE-SCENES: The Frick Collection New York City Monday, April 18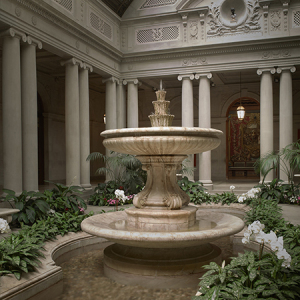 The Frick Collection, founded by steel industrialist Henry Clay Frick, is an Indiana limestone mansion that houses over 1,000 objects, most of which were in Frick's collection when he died. Works include 18th-century French furniture, Chinese porcelains, and paintings by Holbein, Vermeer, Rembrandt, and Van Dyck.  The opulence of the Gilded Age shines through in Frick's spectacular home, with state of the art accoutrement such as a complex heating and circulation system; a bowling alley; and a massive vault that housed his entire collection.  Join us for an exclusive behind-the-scenes tour of the private spaces of this public institution. Led by Ian Wardropper, The Frick Collection's Director, we'll walk down the second floor corridor with the Chinoiserie painted ceiling; admire the delicate wood paneling in the library with Gibbons-esque garland; and visit Mr. Frick's private study, now Mr. Wardropper's office.
Location: The Frick Collection, 1 East 70th Street
Time: 1:00 p.m. – 2:30 p.m.
Charge: $75 Art & Design and Heritage Circle members only
PRIVATE TOUR: Animals on Parade: Children's Literature and Tea at the Morgan Library
New York City
Thursday, April 28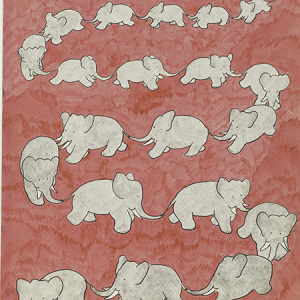 Children's books featuring animal characters are one of life's simple joys. The original ideas for many of Beatrix Potter's stories can be found in her charming picture letters, such as The Tale of Peter Rabbit which began as a letter to Noel Moore, the four-year-old son of Potter's former governess. Join Carolyn Vega, Assistant Curator of Literary and Historical Manuscripts in one of the Morgan Library's private parlors to view Potter's letters, including the earliest known picture letter. Other letters depict bunnies throwing snowballs, the Owl and the Pussycat, and other fanciful illustrations. We will also view the earliest written record of Charles Perrault's Mother Goose tales, the 1695 Contes de Ma Mere l'Oye. The Morgan's collection also includes the working files for E. B. White's Trumpet of the Swan and drafts for Jean de Brunhoff's Histoire de Babar (1931). The tour will be followed by an English tea in the Courtyard.
Location: The Morgan Library & Museum, 225 Madison Avenue
Time: 1:00 p.m. – 3:30 p.m.
Charge: $65 supporting-level members; $75 one non-member guest
PRIVATE COLLECTION: "The Darker Side of Life": The Burns Archive
New York City
Friday, April 8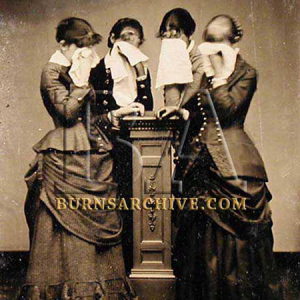 One of the country's most important photography collections is housed in a brownstone in Murray Hill, New York City. Dr. Stanley Burns, an ophthalmologist and Clinical Professor of Medicine and Psychiatry at NYU, has collected more than a million photographs of what he calls "the darker side of life." Dr. Burns, a consultant on the HBO/Cinemax historical hospital drama "The Knick" directed by Steven Soderbergh, traces his interest in medical photography to the mid-1970s. Dr. Burns' astounding collection also includes photographs (1839-1950s) depicting African-American history, Egyptology, Judaica, war and revolution, news photography, and criminology. Nineteenth century memorial (post-mortem) photographs— including English and American—form a significant part of the collection. Dr. Burns has written 45 books, 1100 articles, consulted on numerous films and documentaries, and curated and contributed to hundreds of exhibitions worldwide. From daguerreotypes to cartes de visite; from social and labor movements to Japanese geisha, The Burns Archive is a record of a past that without his passion might have been forgotten.
Location: The Burns Archive, 140 East 38th Street
Time: 5:00 p.m. – 6:30 p.m.
Charge: $50 supporting-level members; $60 one non-member guest
NOTE: This Program will include graphic medical photographs that may be disturbing.
EXHIBITION TOUR: The Metropolitan Museum of Art: Redesigning the British Galleries
New York City
Monday, April 4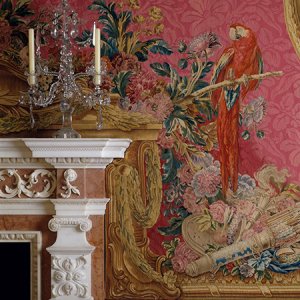 The Annie Laurie Aitken Galleries at The Metropolitan Museum of Art offer some of the finest examples of English interiors and decorative arts.  Visitors can enjoy the exuberant plasterwork decoration of the Kirtlington Park dining room; or stand in the Croome Court tapestry room and appreciate one of the most complete views of an 18th-century interior.  Robert Adam's Neo-classical style is celebrated in the dining room from Landsdowne House, with its delicately rendered stuccowork. This summer, the galleries are undergoing an ambitious renovation that will offer a new perspective on British decorative arts.  Join Royal Oak and Luke Syson, Iris and B. Gerald Cantor Chairman of European Sculpture and Decorative Arts and Ellenor Alcorn, Curator of Decorative Arts for a special walk through of the galleries and a sneak peek of what's to come.
Location: The Metropolitan Museum of Art, 1000 Fifth Avenue
Time: TBA
Charge: $60 supporting-level members; $70 one non-member guest
PRIVATE PASSIONS: Galerie Mourlot: Four Generations of Lithography New York City
Friday, May 6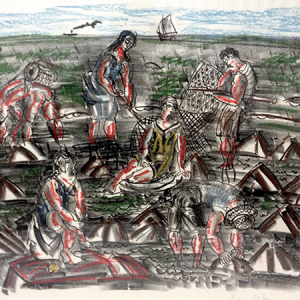 Join us for Attend a special evening and reception with Eric Mourlot, founder of New York's Galerie Mourlot, whose great-great-grandfather Francois Mourlot established the original Atelier Mourlot in Paris in 1852. During the 1920s, Atelier Mourlot was a print shop that introduced many celebrated 20th-century artists to the art of lithography, including Toulouse-Lautrec, Chagall, Matisse, and Picasso. Mourlot resurrected lithography to make/create fine art books and museum exhibition posters, making the work of these artists accessible to a broad audience. During our private visit, Eric Mourlot will speak about the artistic and historical importance of the works created by these elite artists and display some of their masterpieces. He will touch on the artists' relationships with his grandfather, Fernand Mourlot, sharing rarely seen photos and anecdotes. He will delve into the technique of lithography, explaining how these works of art came to be and why they are such desired collectibles.
 Location: Galerie Mourlot, 16 East 79th Street
Time: 5:30 p.m. – 7:00 p.m.
Charge: $90 Art & Design and Heritage Circle Members only
PRIVATE TOUR: The National Arts Club
New York City
Wednesday, May 11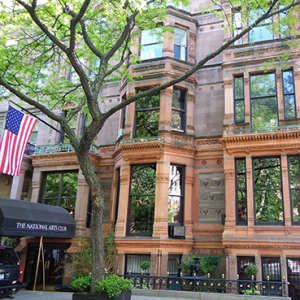 Founded by art critic Charles De Kay, The National Arts Club has been a gathering place for artists and patrons since 1898.  The Club has an impressive roster of past members: three U.S. Presidents, including Theodore Roosevelt; distinguished artists such as Frederic Remington and William Merritt Chase; photographer Alfred Stieglitz; and architect Stanford White.  In 1906, the Club moved to Gramercy Park into the home of former New York Governor Samuel J. Tilden.  Tilden acquired 15 Gramercy Park South in 1863 and later purchased the adjacent brownstone.  The façade was modernized with bay windows and ornamentation in the style of the Aesthetic movement.  Its striking interior features stained glass windows by John LaFarge; elaborate fireplace surrounds by the firm Ellin and Kitson; and a dramatic skylight that crowns the Club's bar.  Join National Arts Club historian Robert Yahner for a private tour of this beautiful historic landmark.
Location: The National Arts Club, 15 Gramercy Park South
Time: 3:00 p.m. – 5:00 p.m.
Charge: $55 supporting-level members; $65 one non-member guest
Royal Oak members enjoy special prices on lecture tickets. Take advantage and become a member today. Join Now