This blog continues in the "Europe & the U.S. in 99 Objects" series. Dr. Gabriella de la Rosa at the National Trust has started this project for the National Trust, originally published here, by delving into the Trust's collections  –  nearly 1 million objects held at over 200 historic properties across the United Kingdom –  to find objects with  interesting, unusual and unexpected connections to Europe. These objects and their stories are being published in the form of a digital diary on the National Trust Collections website.
#8 Harp – Sébastien Erard (1752-1831)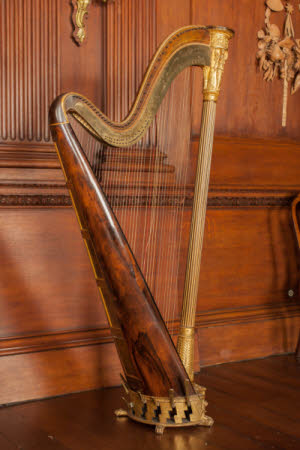 Eliza Hancock, later the Comtesse de Feuillide, Jane Austen's spirited first cousin, was living in Paris in 1780 when she described the harp as 'at present the fashionable instrument.'The taste for these large but delicate instruments had certainly reached English circles some fifty years later, when in 1829, Thomas Legh, master of Lyme Park, purchased this beautiful Grecian harp.
In England, the harp had a long and distinguished pedigree and was particularly associated with the great Welsh harpers of the earlier 18th century. But soon after the invention of the single-action pedal harp, France became the main center for cultivation of the instrument and its music.
The maker of this particular harp was the Frenchman, Sébastien Erard. Prior to establishing his firm in London, Erard was closely associated with the Bourbon court including the harp-playing Marie Antoinette, whose arrival to Versailles in 1770 fueled the rage for the instrument amongst the French elite. But by the early 1790s, with many of his clients facing certain death by guillotine, Erard fled France for London where he established a shop on Great Marlborough Street. There he honed his craft to such a degree that by 1794 he took out the first British patent for the harp to protect his innovations.
In 1800, the Princess of Wales bought one of his harps and the success of his firm was ensured; by 1810 he had sold nearly 1400 of his stringed instruments from his London outlet alone. Eliza de Feuillide, whose royalist husband was guillotined in 1794, had long since returned to England where harp playing continued to be the pastime of the wealthy and the privileged. After her second marriage to Henry Austen (Jane's older brother), Eliza held parties at her London home where professional harpists performed.
Interestingly, in 1814, Fanny Knight, Jane and Eliza's niece, began studying the harp and herself became a client of the Erard firm, continuing the Franco-British dialogue around the harp and its repertoire.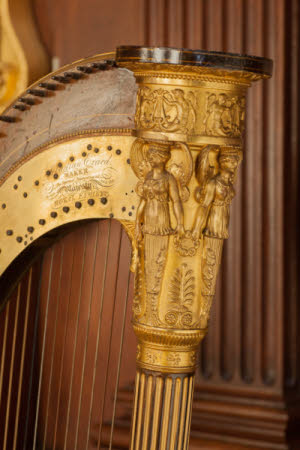 Category: Musical instruments, devices and recordings
Date: 1829
Measurements: 170 x 42 cm
Place of origin: London
Collection: Lyme, Cheshire (Accredited Museum)
On show at: Lyme, Cheshire, North West, National Trust
NT 500496
Summary
Grecian harp made by Sebastian Erard, 18 Great Marlborough Street, London, with rosewood-veneered body and unpainted sound board with gilt lined detailing and gilt fluted column. Model number 4250 inscribed on back of sound board, March 1829 stamp to base of pedal box – R 4351. According to the Erard ledgers it appears harp no. 4250, completed in July 1829 and sold to Thomas Legh Esq of Lyme Park on 24 September 1829.
#9 Lady's shirt Emilio Pucci (Province of Florence 1914 – Florence 1992)
The Pucci fashion house has been one of Europe's most famous international luxury brands ever since 1951 when Emilio Pucci set up the atelier in his family's grand palazzo in Florence.
Capturing the jet-set glamour of post-war Italy, Pucci's effortlessly elegant and casual designs quickly became a sartorial staple among the European glitterati and Hollywood elite. Marilyn Monroe was even buried in one of his dresses.
Pucci oversaw every stage of the design process, including creating his own dye recipes. His careful and inventive approach transformed textile design and colour chemistry as we know it and he advanced the concept of designer ready-to-wear. Known for his unique patterns and hand-silkscreened prints, Pucci included his 'signature' in his designs, thus the repeated presence of the handwritten 'Emilio' on this shirt. Indeed, the Pucci brand was one of the first to bear a logo.
This shirt is also remarkable for its airy, lightweight quality. Pucci rejected heavy fabrics or the use of tucking and pleating to shape the female figure, opting instead for amply cut, flowing fabric to follow the body's contours. 'The body of the woman moved the dress,' he observed. 'The dress didn't create the body of the woman.'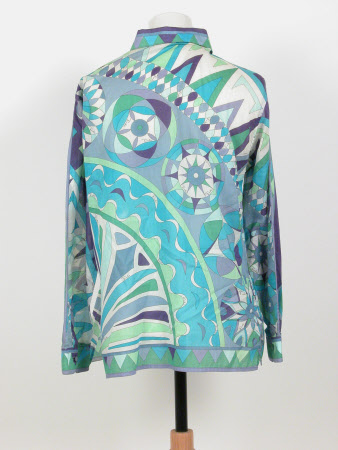 Category: Costume
Date: 1960
Materials: Cotton
Collection: Killerton, Devon (Accredited Museum)
On show at: Killerton, Devon, South West, National Trust
NT 1361615
Summary
Shirt – Emilio Pucci geometric print shirt in blue, green, purple and white. Fabric covered buttons and long sleeve. 1960 (circa)