Experience romantic estates, exotic gardens, and prehistoric settlements on a luxury summer cruise. Here are the 7 best reasons to join "Castles & Collections of the Celtic Isles: Dublin to Edinburgh Aboard Sea Cloud II" (July 6-17, 2019).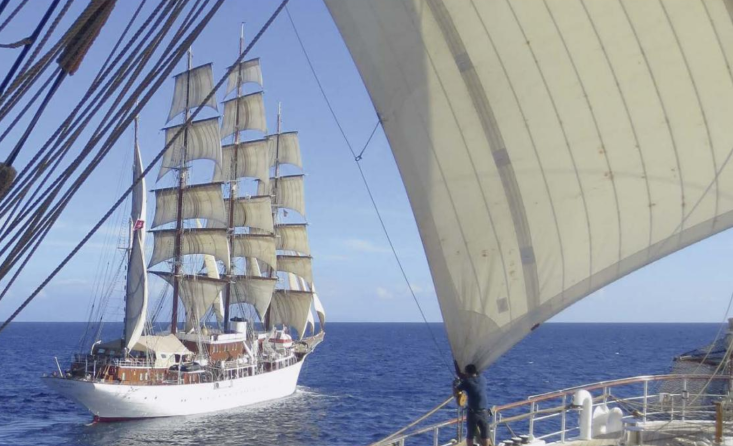 Learn from stellar lecturers. Experts traveling with us aboard Sea Cloud II include Patrick "Paddy" Bowe, the author of Gardens of Ireland and other books. Join Paddy in his hometown of Dublin, then cruise north with him to discover grand estates and their gardens. READ PADDY'S BIO.
Relax aboard an incredible ship. Spend 10 nights aboard Sea Cloud II, a three-masted sailing yacht steeped in the elegance of yesteryear and complemented with the most modern amenities. Sister ship of the legendary Sea Cloud, Sea Cloud II travels under 23 billowing sails trimmed by hand. WATCH A VIDEO ABOUT THE SHIP.
Enjoy exclusive visits to private estates. Visit historic Ballywalter Park, a country estate outside Belfast, where we will be greeted by the owners and have a private lunch. We will also take a special tour of Baronscourt, seat of the Duke of Abercorn.
See historic castles. From Inverness, tour Cawdor Castle before sailing to Aberdeen to admire nearby Crathes Castle. At Cawdor Castle, we'll meet the delightful Dowager Countess Cawdor, Lady Angelika (pending confirmation).
Stroll through exotic gardens. Tour Inverewe, a subtropical oasis warmed year round by the Gulf Stream, and other stunning gardens.
Discover less-visited destinations. On tiny Iona, explore the 6th-century abbey and the burial sites of Scottish kings. We will also call at Kirkwall in the Orkney Islands to visit nearby Stone Age sites including Skara Brae.
Mingle with a great group. Travel in the congenial company of members of the Royal Oak Foundation, Metropolitan Museum of Art, National Trust for Historic Preservation, National Trust for Scotland Foundation USA, the alumni association of Yale, and the Museum Travel Alliance.