Celebrate the holidays in the style of Charles Dickens
In a brand new book from the National Trust, Roasts, leading chef Laura Mason gives you all the best techniques for sourcing, preparing, and roasting all kinds of meat: beef, lamb, pork, chicken, turkey, duck, goose, and various game, including partridge, grouse, and woodcock. Read an excerpt here:
Christmas is coming, the geese are getting fat …
Domestic geese are probably descended from wild geese native to Europe. Even the rural poor could keep a few, pastured on common land, and for many centuries they were Christmas food. It was a goose that Ebenezer Scrooge bought for the Cratchit family in Charles Dickens' A Christmas Carol (1843), but a century later turkeys had supplanted them on the festive table. Geese are resistant to attempts to farm them intensively. They need space and grass to graze on, and they remain highly seasonal as food. Until the 19th century, geese were eaten during the autumn as well as at Christmas. Like most birds, the young hatched in spring were attheir peak in autumn, still tender, and fat because they had had all summer to feed. A stubble-fattened goose was a traditional item for a Michaelmas dinner – 29th September was an important date because it was one of the 'quarter' days of the English calendar, when rents and debts were paid. This was the start of the season when geese were at their best, which ran through until Christmas. Young birds were also eaten as 'green geese' around Whitsuntide, served with sorrel sauce, but never stuffed.
In the middle of the 20th century, goose became difficult to buy as the poultry industry intensified. Turkey became the norm, and the small mixed farms that used to rear a few geese every year became uneconomic. Interest in geese has revived recently, partly because they have a deep, rich flavour, quite different from turkey, and partly because of their resistance to intensive systems.
In the past, geese were cooked by a variety of methods, but roasting was always a favourite because it both removes the copious fat and produces a delicious crisp skin. Carving a goose was something of a ceremony in the 19th century. The carver started by cutting away the 'apron', the skin below the breast, and pouring a glass of claret mixed with mustard into the bird, before removing some of the stuffing. A 'graceful and well-skilled' carver reckoned never to have to turn a bird on its side to disjoint the leg, but it was acknowledged that this was sometimes a necessity when carving goose, as the hip sockets are difficult to reach with the carving knife.
Sage and onion stuffing seems to have been the invariable accompaniment – to the extent that some cuts of other meats cooked with it were sometimes called 'mock goose'. Cooks always differed about how apparent the flavourings should be.
In 1747, Hannah Glasse warned 'never put Onion into any thing unless you are sure every body loves it'. Colonel Kenney-Herbert and Mrs Roundell, in the late 19th century, both appear to have considered sage objectionably strong, and subdued its flavour by blanching. Potato stuffings for goose, with apple, onion, shallot or herbs, are mentioned in several mid-19th-century cookery books, and some variation on this is an excellent idea.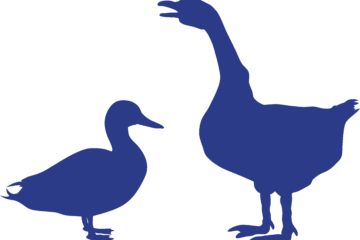 ---
Roast Goose
Geese are large birds and the amount of fat they yield during cooking is startling. Make sure the ovenis big enough. You will need a deep roasting tin, a rack, a pair of sturdy oven gloves and a capacious bowl for the fat. A supply of heavy-duty foil is also useful. Allow 30 minutes per 500g.
Serves 6
Ingredients:
1 goose
Salt and pepper
Stuffing, as required
Giblet Stock (a recipe is offered in the book)
2 tablespoons arrowroot
Method:
About 1 hour before you want to start cooking the bird, allow it to come to room temperature. Preheat the oven to 220°C, 425°F, Gas mark 7. Rub the bird with salt and pepper and stuff the body. Place the goose on a rack in a deep roasting tin. Start it breast downwards. Use foil to extend the tin under any of the
goose that projects over the edge (it's also useful for wrapping round wing tips and ends of drumsticks if they show signs of browning too fast).
Put the goose into the oven and cook for 30 minutes, then turn the heat down to 180–190°C, 350–375°F, Gas mark 4–5 and continue to roast. After 30 minutes, remove from the oven and ladle the fat out of the roasting tin into a bowl. Turn the goose onto its back. Return it to the oven and continue to cook. Keep
checking the fat in the roasting tin, and pour it off into a bowl from time to time. When cooked, rest for about 20 minutes.
To finish the gravy, pour off the fat, returning any browned cooking juices and sediment to the tin. Pour in the stock, stir to deglaze, and bring to the boil. Slake the arrowroot with a little cold water and pour into the gravy. Bring it back to boiling point to thicken. Check the seasoning, then strain into a gravy boat.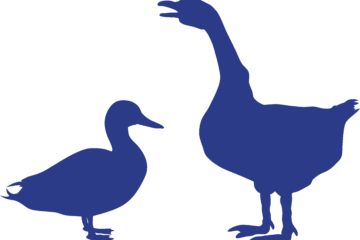 ---
Chestnut Gratin
An accompaniment to game birds that is also good for turkey. Peeling chestnuts is tedious, but the results are lighter and fresher-tasting than using tinned purée.
SERVES 4–6
Ingredients:
600g (1.lb) chestnuts in their shells
300ml (10fl oz) stock (appropriate to the roast),or chicken stock or milk
30g (1oz) unsalted butter
salt
3 tablespoons dry breadcrumbs
3 tablespoons grated Parmesan cheese
Method:
Cut a slit in the shell of each chestnut and cook them in boiling water for about 15 minutes. Take off the heat, remove them from the water a few at a time, and when just cool enough to handle, peel off the brown outer shells and the inner membrane. Return the shelled chestnuts to a clean pan and cover with the stock.
Simmer gently until very tender, then pass the whole lot through a sieve to make a puree.
Preheat the oven to 200°C, 400°F, Gas mark 6. Beat the butter into the chestnuts, add a pinch of salt, and pour into a buttered gratin dish. Mix the breadcrumbs with the Parmesan and scatter over the top. Brown in the oven for about 15 minutes.
Buy the Book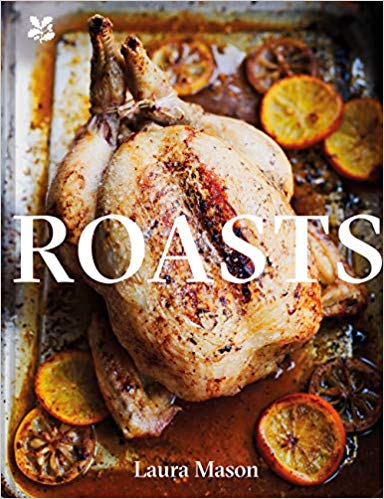 Let Laura Mason give you the best techniques for sourcing, preparing, and roasting all kinds of meat: beef, lamb, pork, chicken, turkey, duck, goose, and various game, including partridge, grouse, and woodcock. To make the absolute most of this most prized food, the author explains the various cuts of meat (and what cuts work best with various recipes), as well as ideal roasting times for a rare or well-done piece of meat. Plus, of course, she covers the use of marinating, barding, larding, basting, and dredging.
The recipes would not be complete without a range of potato and vegetable dishes that make ideal accompaniments, from the best roasted and mashed potatoes to gratins, gravies, and sauces. And, last but not least, the book provides a wealth of ideas for using leftover meat for weekday meals–from pies and soups to stews and sandwiches, the traditional Sunday roast can be the source of much more than one delicious meal.
Buy at Amazon Smile today and remember to select Royal Oak as your charity so that Amazon will donate a portion of the price to Royal Oak!