National Trust has released a new book, Every Day Nature to help everyone connect with nature wherever they live. In this book, Andy Beer, author and National Trust nature expert, shares the solace he finds in nature with tips of what to look out for every day of the year.
Every Day Nature is an inspiring book that allows people to find many natural wonders on their doorstep. The book includes 365 entries, offering readers inspiration on how to engage with nature and wildlife every day of the year. The book takes readers on a day-by-day journey through the seasons describing what to look and listen out for – from mushrooms to meteors, from moths to mosses, from daisies in gardens to the laughing call of a green woodpecker and the clouds above us.
As people become accustomed to spending more time indoors, Every Day Nature invites people to observe nature's rich array that can be seen through a window, on the doorstep, in a garden, a park, a hedge or on the side of a road.
Andy Beer says: "Noticing nature can really help lift our spirits. I find a daily dose of nature to be essential for my wellbeing. Actively noticing and taking delight in things can be a great antidote and I would love for others to share in that feeling, which is why I decided to write the book."
"You don't have to be an expert, know the correct names, have special equipment or, more importantly at this time, you don't have to travel. Every Day Nature is about finding the joy in what is around you – wherever that may be."
He says about garlic mustard: "Jack-by-the-hedge is one of the definitive April flowers. It lives up to its name, favouring hedge banks, verges and shady spots. The plants can grow really tall and they have nettle-like leaves.  It lights up a spring lane with clusters of four-petalled flowers that give way to long, thin seeds, which are an important food for birds. If you pick one and crush it, you will get a distinct hit of garlic."
Research has shown that the more people connect with nature, the more likely they reach higher wellbeing with a lower level of depression and anxiety. The book contains lyrical text and beautiful illustrations that will transform the way people see the world.
Buy the Book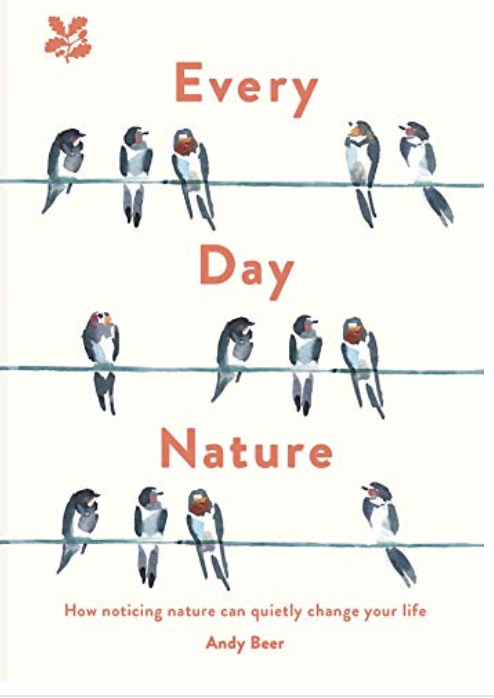 A fascinating, inspiring gift book that helps you make the most of nature, with something to spot for every day of the year.
This book proves that nature isn't something you visit from time to time; it's everywhere – even in the densest concrete jungle. You can find nearly all of the natural wonders in this book within a mile of your front door. There are 365 to look for – one for every day of year, organised by month. From mushrooms to meteors, from moths to mosses, it's incredible what you can find when you look. With witty and lyrical text and beautiful illustrations, this is a gift book that will transform how you see the world and build a greater connection to the natural world for the rest of your life.
Buy at Amazon Smile today and remember to select Royal Oak as your charity so that Amazon will donate a portion of the price to Royal Oak!