Don't miss out on any of Royal Oak's Drue Heinz lectures! Learn More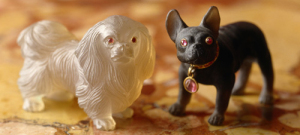 When discussing why dogs are such a treasured part of the English country life in New York City Tuesday night, Gareth Williams, the award winning curator at Weston Park, asked his audience to imagine approaching an austere country home, the sort that simply exudes propriety, and demands a certain formality. Then imagine, he asked, a hunting dog baying as you approach the door, and more dogs clamoring around you walk through the property. These beloved pets, he said, often penetrated the formality of these stately homes, making the entire place more approachable.
It's no wonder, then, that dogs have been a staple of English country life for centuries. They've taken their rightful place in country house, decoration, too. For his latest lecture, Williams has traced dogs in all sorts of art: from gaunt greyhounds in early English tapestries to fabregie spaniels and bulldogs. Thes animals became an integral part of the house and the collections within, and the stories behind them reveal a great deal about English aristocratic life.
Before his lecture, we sat down with Williams to discuss his favorite stories of some very pampered pups. Whether they're leading heads of state and foreign dignitaries in precession or taking up a place in their masters' heart in front of even the lady of the house, English manor dogs tell a story that is intimately connected to the properties of the National Trust.
Gareth Williams on dogs of the Country House from The Royal Oak Foundation on Vimeo.
Don't miss out on our other great lectures as part of the Drue Heinz lecture series. Get your tickets today! Learn More