Christina Conte is a renowned food blogger and top-notch cook with a passion for the UK. In fact, she was even born on the other side of the Atlantic and visits her native Scotland often! Her blog, Christina's Cucina, is home to hundreds of delicious recipes that will make your mouth water, plus fun stories from her travels in England, Wales, Ireland, Scotland and beyond. We're delighted to be able to share Christina's recipes regularly here on The AngloFiles Magazine.
Today, she's writing about two things we'd love to binge on: The Great British Bake Off and Treacle Sponge Pudding!
By Christina Conte
Where do I begin? Of course I want to tell you all about this delectable dessert, but I also want to make sure you know about The Great British Bake Off (The Great British Baking Show), so you don't miss it, especially all of you Downton Abbey and Mrs. Patmore fans!
When I was at the BBC Good Food Show in Scotland in October, I was very fortunate to meet not only Mary Berry, but also Paul Hollywood (yes, that's really his name), the co-host of the Great British Bakeoff, which is literally the most popular show that's been on BBC! Someone who watches the show in the UK asked me, "Are his eyes really that blue?" and the answer was, "Yes! They really are."
Living so close to the Hollywood sign, I couldn't resist the urge to take Paul's book, and the Treacle Sponge Pudding which I made from his book and pose for a photo in front of the sign. Unfortunately, there were what seemed like millions of tourists trying to get near the sign, so by the time I got there, the sun was setting. However, I knew where to go to get a great shot, very close to the sign, that none of the tourists knew about–I must admit I felt rather smug!
I want to tell you that you simply must tune in to PBS on December 28th (tomorrow) to see the first episode of The Great British Bake Off, which will be called The Great British Baking Show, here in the US. If you like cooking shows, you're going to love this one! I watched an episode when I was in Scotland, and understood what the craze was all about. Not only that, if you're a Downton Abbey fan (and if you're not, you should be) you'll already be in front of the telly when it comes on as The Great British Baking Show is set to air right before DA, after the premiere tomorrow.
Now, let's get to Paul's Treacle Sponge Pudding! It's very similar to one of my favorite desserts, Sticky Toffee Pudding, however it's steamed, not baked. Steaming is not nearly as popular in the US as it is in the UK, but once you have a pudding basin (bowl), it's so easy!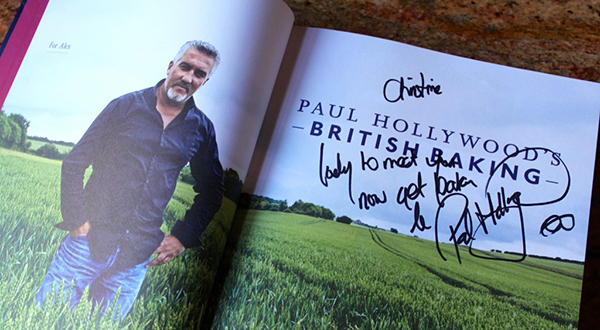 This recipe is from Paul's latest book, Paul Hollywood's British Baking, which I am in love with at the moment! Do you ever look at a cookbook and want to make EVERY SINGLE RECIPE? Well, that's how I am with Paul's latest book. Every recipe is fantastic and it's filled with gorgeous photos! I was a lucky girl and Paul actually gave me a signed copy!
Paul Hollywood's Treacle Sponge Pudding
slightly adapted from Paul Hollywood's British Baking cookbook
Ingredients
7 tbsp (115g) golden syrup (found in British specialty shops and Amazon) – you can substitute maple syrup or honey but the flavor will be different
1 tbsp molasses (black treacle)
3.5 oz (almost a stick) (100g) unsalted butter, softened
1/3 cup plus 1 tbsp (100g) sugar
3 large eggs
3/4 cup plus 1 tbsp (110g) all purpose flour (if using self raising flour, only use 1 tsp baking powder)
1 1/2 tsp baking powder
For step-by-step cooking instructions, please read more at Christina's Cucina.
Experience authentic UK cooking for yourself with a trip to the other side of the Atlantic! All you need is your passport and your Royal Oak member card! Join Now