Check out this five minute video of the Darnley Mausoleum!
Wander up William's Hill, the highest point of the site, to see the Mausoleum looking like a grand classical temple. Intended to be the last resting place of the Darnley family, the unconsecrated mausoleum designed by Wyatt became a 'folly' in Humphry Repton's designed landscape.
The Earls of Darnley were usually buried in Westminster Abbey, but by the late 18th century, their vaults were full. In his will, the 3rd Earl, John Bligh, left instructions for a mausoleum to be built in Cobham Park, Kent, where he and his descendants could be laid to rest in a grand manner.
Lord Darnley's ideas for his mausoleum were possibly inspired by the Roman remains, including the monumental pyramid mausoleum of Cestius, he saw on the 'Grand Tour'. He may also have been influenced by French artist Nicholas Poussin's picture 'The Sacrament of Ordination'.
Of the detailed instructions he left in his will, it clearly stated that he wanted a square stone building with a 'prominent pyramid' surrounded by a dry moat.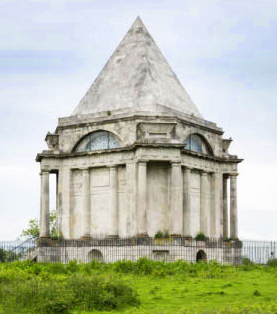 James Wyatt and George Dance the Younger
After the Earl's death, the family commissioned architect James Wyatt to design a mausoleum following the instructions set out in his will.
Wyatt exhibited his design at the Royal Academy in 1783, but due to a heavy workload, the mausoleum was built under the supervision of another famous architect, George Dance the Younger.
Left unused
The mausoleum was completed in 1786, at a cost of £9000 (well over £1 million in today's prices), but there was a problem… For reasons that remain unclear, possibly involving a dispute with the Bishop of Rochester, the Darnley Mausoleum was not consecrated and could not be used for burial.
Design
The square building is dominated by a massive stone pyramid. Around the corners, you can see pairs of Doric columns projecting out, which are surmounted by sarcophagi.
The exterior features are all symbols of death. The crossed upside down torches are symbols of Thanatos, the Greek personification of Death – signifying the extinguishing of life. The structure itself, combining the pyramid, the square and the circle is a classical reference to eternity.
The Chapel
Intended as a place for prayers and remembrance, you can see the altarpiece has the Lord's Prayer and Creed carved into its marble slab. The lunettes (half-moon windows) on each side are filled with stained glass and on a sunny day, you can see the coloured light reflecting down onto the polished stone and marble.
If you stand in the centre under the decorative domed ceiling and talk normally, you can hear your voice amplified. This is a marvel of architectural engineering – it creates a parabolic reflector, which amplifies sound.
Our indoor garden party in New York City supporting the restoration of this folly is Wednesday, October 5th! Please join or support us.