Leap Day comes once every four years, so why should you treat it like any other Monday. Make your bonus day special with these Seven Wonders of the National Trust World!
Enjoy unlimited access to all these spectacular places with your Royal Oak membership.  Join Now
The best summer trips put our day-to-day lives into fresh context. They can offer us the sense of wonder, of awe, that too often passes us by the rest of the year. By setting aside time to purposefully explore the world, open to the jaw-dropping experiences around us, we recharge ourselves and reconnect with each other.
In fact, The New York Times last month reported on a study that links a sense of awe to stronger communities and tighter bonds with those around us. It's no surprise, then, that when we indulge in the things that fill us with wonder, we come back happier and more fulfilled than when we left.
There's no place more wonderful than the National Trust, of course. Have an awe-inspiring summer by visiting these Seven Wonders of the National Trust World- unique properties that will make you feel alive.
1) Bodnant Garden's Laburnum Arch, Wales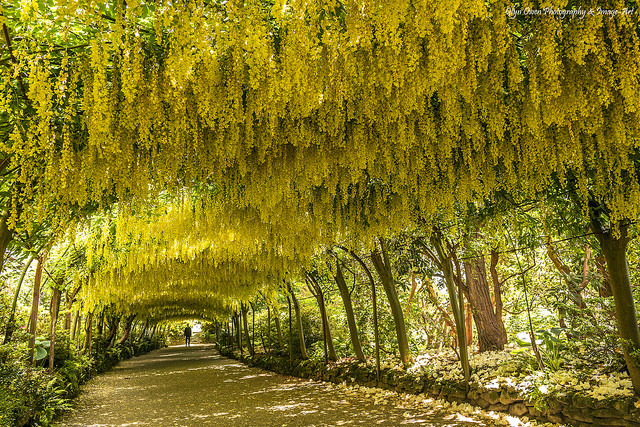 This cascade of brilliant yellow flowers are in bloom right now, and usually peak around May. There's nothing quite like a sky of brilliant yellow flowers, and a visit when they're in bloom is a must.
2) Carrick-a-Reade Rope Bridge, Northern Ireland
First built by fisherman in the 1600's, this bridge connects mainland Northern Ireland to "Rocky Island." If you're brave enough to cross, enjoy magnificent views of Scotland, the Causeway Coast, and the ancient sea caves and caverns below.
3) Hadrian's Wall, Northumberland
Dating back to Roman times, Hadrian's Wall and the connected  Housesteads Fort offer insight into Roman military life and the occupation of Britain thousands of years ago. This UNESCO World Heritage Site is an important monument to early Britain – walk in the steps of Roman soldiers in this unspoiled landscape.
4) Lindisfarne Castle, Northumberland
The castle itself is spectacular, but it makes this list because of its location. Situated on an island on high tide but connected to land by a causeway during low tide, the castle is a unique attraction.Visitors get a unique view from every angle, and the approach is certainly awe-inspiring.
5) White Cliffs of Dover, Kent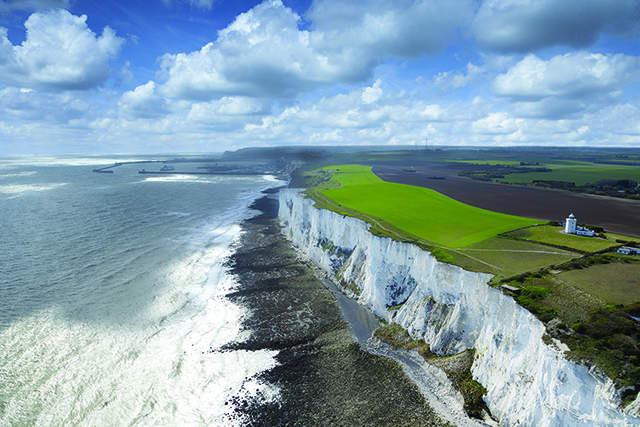 These chalk cliffs are one of the most iconic natural wonders in the whole United Kingdom, drawing tourists and artists in droves. The National Trust protects the cliffs as part of its Neptune Coastline Campaign, and Royal Oak's Ervin-DesChamps Fund provided lead support for the White Cliffs of Dover Appeal in 2012.
6) Cerne Giant, Dorset
This 180-foot tall figure sculpted into the region's chalk hillside is believed to be an ancient symbol of fertility. Believed to date back to the Iron Age, the Cerne Giant evokes the mystical roots of England's past in much the same way Stonehenge does.
7. Giant's Causeway, Northern Ireland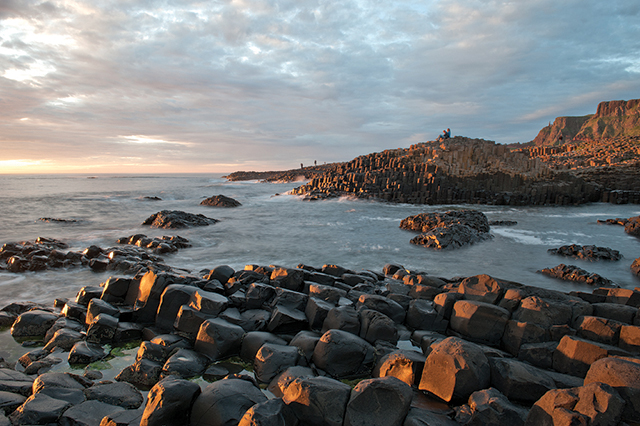 Enjoy the mythic stories and dramatic vistas of this UNESCO World Heritage Site, which has been a global attraction since the 18thC. The National Trust's remarkable new visitor center offers excellent programs and hearty food fit for a giant. It's a jaw-dropping place.
Aside from these seven special places, we can list dozens of other National Trust sites to give you that feeling of absolute wonder – from Fountains Abbey to Runnymede and beyond. Get your dose of awe by taking in all the National Trust has to offer with your Royal Oak membership. Join Now