Try this recipe from renowned British steakhouse, Hawksmoor. From farming and food-obsessed families, founders and childhood friends, Will & Huw, opened the first Hawksmoor in East London in 2006. They had a simple three-fold goal: find the best possible beef; master the simple-seeming art of cooking the perfect steak; and create an environment where everyone, guests and staff, could relax and enjoy themselves.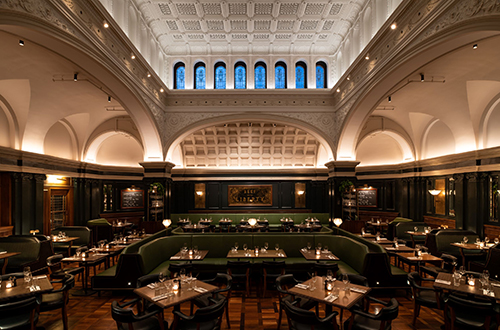 Hawksmoor, which first opened in London in 2006, is housed in the Assembly Hall at the landmarked United Charities Building in Gramercy Park in New York City. Closed from public view for over 100 years, the newly and thoughtfully restored Assembly Hall that once gathered civic pioneers now serves as a grand dining room, again set to welcome the people of New York.
Hawksmoor is renowned for its steaks and award-winning cocktail program. The menu focuses on all-natural, pasture-raised beef which is cooked simply over live charcoal as well as sustainably sourced seafood and small farm produce wherever possible. Hawksmoor has a 146-seat main dining room with vaulted ceilings reaching 26 feet high as well as a 35 seat bar. Hawksmoor offers a unique bar menu as well as cocktails that are odes to iconic New York drinks from the last five decades, an approachable wine list and locally-brewed beers and ciders.
Cast-Iron Filet Steak with Bone Marrow Skirlie
Serves 2
Ingredients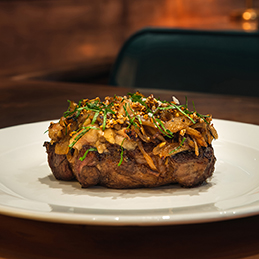 2 10 oz. filets
4 Tbsp. Maldon sea salt
2/3 cup beef drippings
8 cups onions, thinly sliced
2 Tbsp. pin head oats
1 1/2 tsp. Italian parsley, chiffonade
3 Tbsp. freshly ground black pepper
Method
Heat a cast-iron skillet on the stovetop over high heat. Season filet mignon with 3 1/2 Tbsp. Maldon sea salt and cook to medium-rare, approximately 4 to 6 minutes. A digital thermometer inserted into the steak will read 130° to 135° F when it's done. Remove from the skillet and allow it to rest for 5 to 10 minutes.
While the beef is resting, reduce the heat to medium-high. Add the thinly sliced onions to the remaining beef fat in the skillet. Cook until lightly browned. While onions are browning, in a separate pan, toast the pinhead oats in beef fat, tallow, or neutral oil over medium-high heat until golden brown.
As the onions and oats cook and the beef rests, remove the meat from the bone marrow shafts and dice into small pieces. Fold bone marrow, parsley, toasted oats, and black pepper into the onions to warm through.
To plate, place filet in the center, cover with the onion-marrow-oat mixture, and garnish with a sprinkle of salt.
To Learn More About Hawksmoor, Visit https://www.hawksmoornyc.com/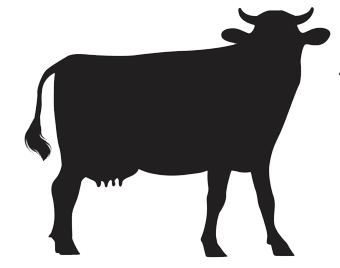 ---